Roll up garage doors
Roll up garage doors are galvanized steel doors that are manufactured into rolled formed slats that interconnect with each other to form a door curtain that rolls up into a coil above interior or exterior building openings.
Roll Up Garage Doors offer ultimate flexibility and customization
Roll up garage doors are used throughout a building to provide security against entry as well as protection from the weather at exterior and interior openings in industrial, commercial, institutional and other buildings. These doors are custom formed from slats of formed galvanized steel, aluminum or stainless steel that roll up to store in a coil above an opening. Roll up doors can be custom manufactured to any size or specification. Because of the custom manufacturing process, there are many options to help meet any commercial garage door or even residential roll up garage door's needs.
Roll up door security and durability
A roll up garage door offers significant security over sectional or other types of garage doors. A roll up door is made up or individual metal slats that are typically 3 inches high, that are formed to permanently interlock to each other. Rolling doors not only utilized thicker metals in the manufacturing process, but the guides that the roll up doors travel in are solid steel as opposed to lighter gauge formed guides typically used by sectional doors. Sectional doors are hinged together exposing a vulnerability between the sections that the interlocking rolling doors do not have.
The rugged commercial grade construction quality of roll up garage doors by nature automatically mend themselves to last longer and have extended durability. Roll up doors coil up completely inside a covered header. This contains the working parts all in one enclosed section compared to parts that in a sectional door would need to be lubricated, cleaned or otherwise maintained. The more direct driven motor and parts allows rolling garage doors to offer outstanding reliability and little to no downtime for often four to five times longer than a standard garage door, helping to increase productivity.
Request Information on Roll Up Garage Doors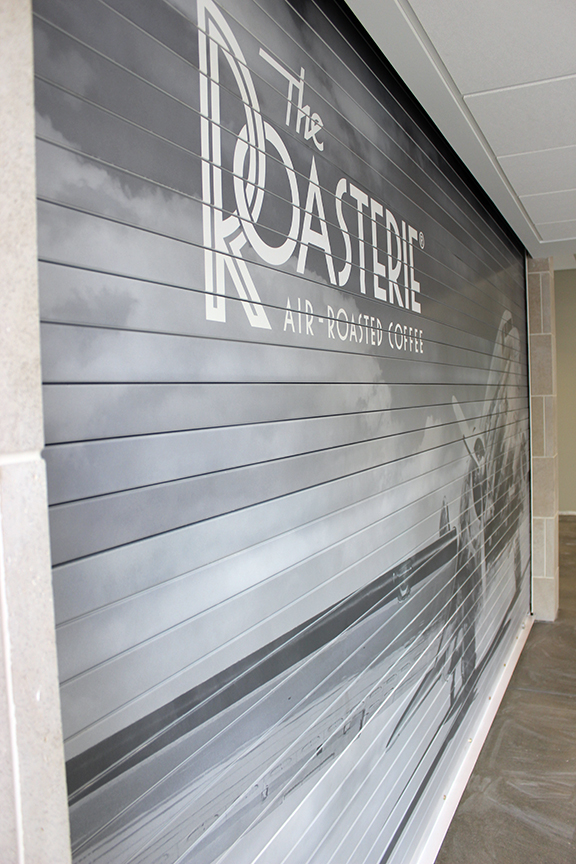 Roll up door offerings and models

Standard rolling doors offer superior durability, security and customization but there are more benefits other than those. Insulation, climate control, high speeds, long lasting as well as fire protection, hurricane or tornado protection and even break in protection are all some possible upgrades for rollup garage doors.
Having the ultimate rolling door that never breaks down, needs little to no maintenance and opens and closes at fast speeds is a top priority for almost all building owners. High performance roll up doors do just that. Eliminating chains and sprockets by utilizing advanced engineered direct drive technology allows our high performance rolling doors offer fast speed doors that are specifically manufactured to open and close for 300,000 or even 1,000,000 maintenance free cycles depending upon the model. All high performance roll up garage doors also come equipped with an easy to use, easy to program advanced Apex Smart Controller.
When it comes to insulated roll up garage doors, our overhead doors offer not only advanced insulation, but patented garage door perimeter sealing to block air infiltration from getting around the door. Even the highest insulated doors are only as good as the weakest air penetration point. By employing the most advanced perimeter seal, we offer the most complete insulated roll up garage doors available.
Sometimes emergency conditions exist and your roll up garage door needs to offer you protection. We offer state of the art commercial garage doors that are specially engineered to protect against fire, hurricanes, riots or tornadoes.
Professional and architect services
Choosing the correct door for your building can be confusing. Cornell offers free tools such as door drawing generators, BIM objects to download, door specifications, codes, listings and even LEED information plus a lot more. But even if you can't find what you need, don't have the time to research which roll up door product is the best or just have an unusual application you need a solution for, our in-house architect design services team is here to help. They offer custom drawings, specifications, customized solutions and even AIA-accredited education programs.
View all our Architect Design Support Services here!