Custom Pharmacy Security Closures

If you handle any prescription over-the-counter medication, you need dependable pharmacy security doors to protect staff, customers, and inventory inside your facility. Pharmacies nationwide contend with the risk of theft, regardless of their location or size. The Office of National Drug Control Policy states that prescription narcotics are the second-most abused category of narcotics in the entire country, making pharmacies a primary target. At Cornell, we provide custom security solutions to protect your pharmacy against forced entry, and help to secure medication against theft.
Each pharmacy is unique. At Cornell, we know the solution for reliable security should be, too. The ideal closure for your pharmacy depends on your layout, opening, and other important factors. Whether you operate a pharmacy walk-up window, a store-within-a-store, or a standalone facility, we'll help you design a custom closure for superior defense with an attractive appearance appropriate for the pharmaceutical industry.
PHARMACY SECURITY SHUTTERS
Our rolling pharmacy security shutters use smaller, interlocking slats for a pleasing appearance and compact overhead storage. These products are perfect for sealing pharmacy counters and windows and are available with or without locks. For smoke and fire protection, you can choose UL-rated fire-resistant security shutters with our SmokeShield® package option, designed to contain and prevent the spread of flames and smoke.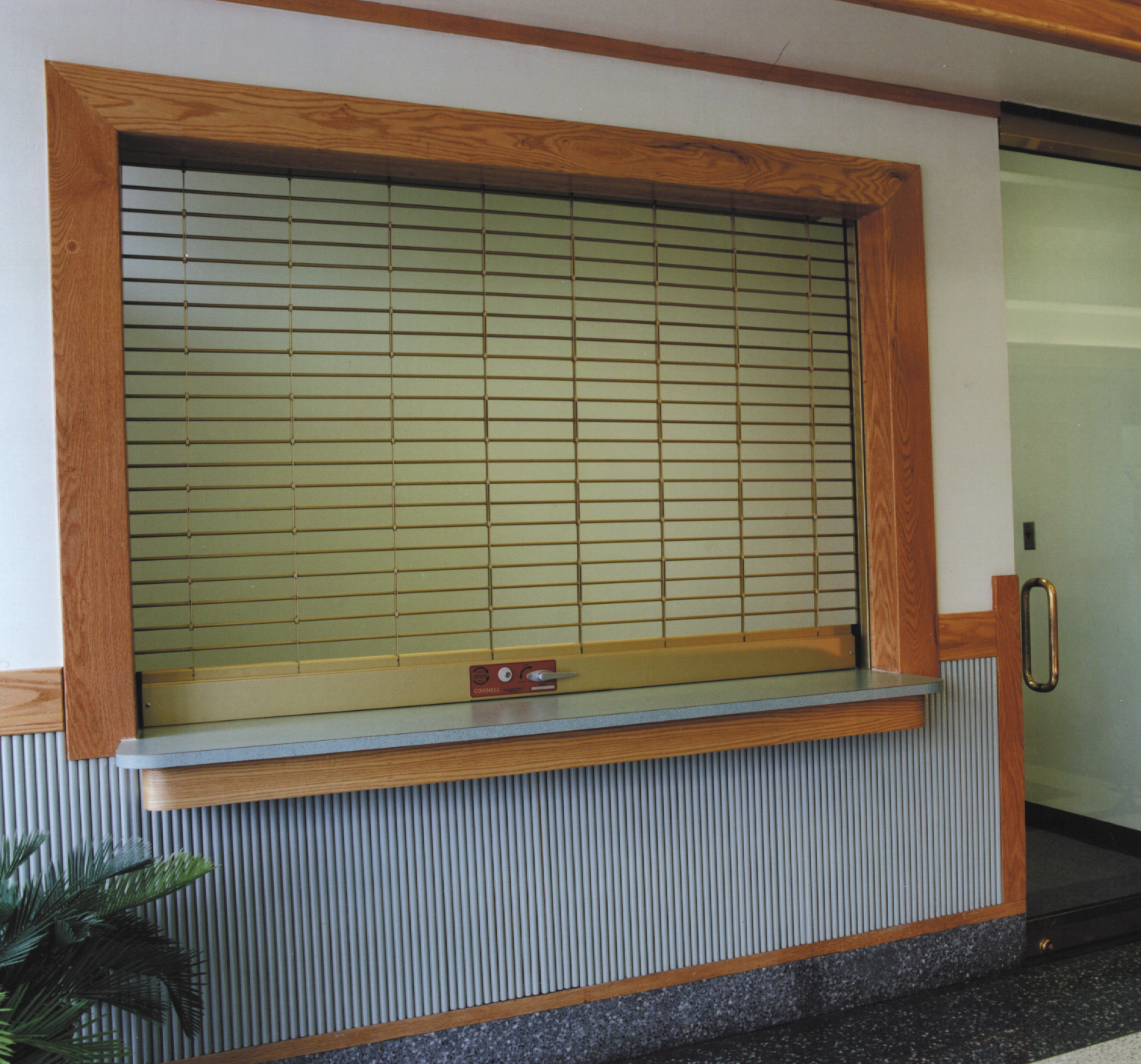 PHARMACY SIDE-FOLDING SECURITY GATES
For the many pharmacies operating with unique layouts or minimal headroom, our side-folding security gates offer all the protection you need. During working hours, these closures fold into the wall for concealed storage. When it's time to close, they'll extend to create an effective barrier against theft and vandalism. Side-folding security gates are available in several styles, making them suitable for securing a pharmacy counter or providing floor-to-ceiling protection.
VistaPane™ Side Folding Grilles: Our VistaPane™ Side Folding Grilles offer visibility, airflow, and maximum security all wrapped into one grille. These grilles come in five different design options to meet your application needs.
GlideGard™ Side Folding Grilles: Our GlideGard™ Side Folding Grilles feature a heavy-duty design that provides an extra layer of security for applications like schools, public transit, food courts, and sports complexes.
VisionGlide® Side Folding Grille: Our VisionGlide® Side Folding Grille is a lightweight option that can act as a security divider between rooms or spaces.
Product Customization and Accessories
Cornell is your source for custom closures, with a range of customizable options and compatible accessories to create secure barriers, whether you operate a 24-hour pharmacy or an assisted living facility with nurses' windows that need additional security. Our team will help you design the perfect security solution for your pharmacy or other health related area.
Depending on the product, available customization options can include:
Materials: Design closures with your choice of stainless steel, steel or aluminum.
Color: For counter shutters, add powder-coating in your choice of over 180 colors.
Backup: In the event of a power loss, certain operators can keep your inventory protected with battery backups.
Trim: Add a trim package to your counter shutter for a clean and polished look.
Curves: Wrap a security gate around a curved pharmacy counter with custom track construction.
Add Layers of Security to Your Pharmacy
Cornell products keep your inventory secure and protect your business. Design your pharmacy security gate, counter door, security shutter, or other closure with ease using the tools and resources available in our Architect Portal. You can also request professional design assistance to ensure your closure fits correctly and looks great.
Request a quote today to see how our products can help you achieve peace of mind, or visit a local dealer to view more custom commercial solutions.