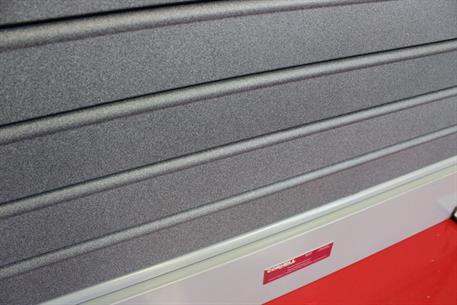 Finishes, Colors and Options
From stainless to galvanized steel, or daffodil yellow to ruby red – our materials and finishes options are sure to complement your design.
View our Finishes, Colors and Options sheet for our GalvaNex™, SpectraShield® Powder Coat and CycleShield™ Powder Coat.
Combat the environment's harsh wear and tear with the AtmoShield® textured powder coat. AtmoShield's rugged durability withstands fading, cracking, blistering, flaking and peeling. View our AtmoShield® Color Options.
Choose from a palette of more than 180 standard RAL colors to incorporate your rolling doors seamlessly into your design with a SpectraShield® factory applied polyester powder coat finish. View the Powder Coat RAL Color Chart.
For a more durable finish, consider upgrading to our Galvanex Ultra or SpectraShield Ultra powder coat finish. It is a polyester based textured wear resistant clear coat that provides increased resistance to corrosion of the curtain and improved durability against normal abrasion and scratching due to cycling.
Need to replicate any logo, design or photo with impeccable detail? ImageMatch™ Finish is a unique ultra-violet-cured printing process that produces vibrant, full-color designs on doors up to 18' wide*
*May be available in larger sizes, please contact CornellCookson for more details.