Bar & Restaurant Counter Doors
Roll Down Bar Shutters
At Cornell, we make it easy to balance security and appearance with attractive roll down bar shutters and security grilles made for the restaurant and bar industry. We know how important it is to keep your image, and we manufacture rolling security solutions designed to deliver incredible aesthetic appeal. We make our products to order and offer a range of customization options to match the look and style of your business.
All of our roll down bar shutters and grilles feature durable metals and are resistant to corrosion for dependable use. We manufacture products made to your measurement specifications for a custom look, whether your door is for a new build or an existing structure's opening. Use these products as a secure bar counter door or create an attractive protective barrier across large spaces, such as the entrance to your business or patio.
Cornell roll down bar shutters and security grilles are excellent for protecting your business, employees and inventory. We offer visually appealing security solutions with many options available for securing:
Storage areas
Business entrances
Patios
Bar countertops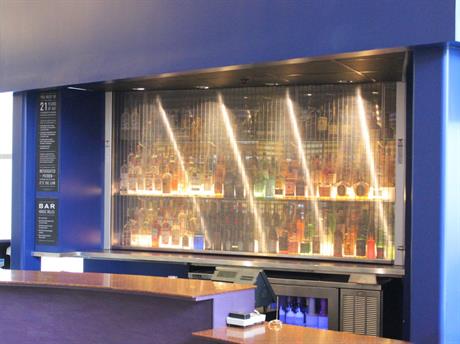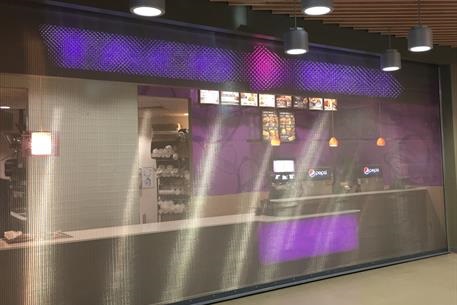 The Advantages of Security Grilles and Roll Down Bar Shutters
Cornell roll down bar shutters and security grilles protect against break-ins, theft and debris. Whether installed behind a pane of glass or exposed to the elements, our rolling security solutions offer advantages for any bar or restaurant owner, including:
Aesthetic appeal: We make these products for businesses that want to maintain a high-end look at all hours.
Customization: You can customize our rolling shutters and security grilles to complement your business and building.
Simple installation: We build to your precise specifications for simple installation as a bar counter door or a full-size closure.
Versatility: Our rolling shutters and grilles coil into compact sizes and are perfect for installation in areas with reduced ceiling space.
We make our rolling bar shutters to your dimensions with durable metals. Plus, we use concealed guides to create a seamless, built-in appearance. Our shutters use an interlocking design to form a tight seal, offering dependable protection against rough weather, high winds, theft and vandalism. These rolling closures are highly customizable. Choose from over 180 color options applied with a lasting powder-coat finish to match any bar or restaurant.
"The SteelWeave Metal Mesh Grille was the perfect solution to meet all of our needs. It complimented the design of the bar and lobby while adding some elegance. We could not be happier with the look and function of our CornellCookson SteelWeave Metal Mesh Grille and custom sliding panel."
DONALD FOX, FOX THEATERS
SteelWeave™ Metal Mesh Grilles
The SteelWeave security grille is unique for its high-end look and is the ideal closure for bar and restaurant owners who want an aesthetically-pleasing solution without sacrificing security. Using woven, type-316 stainless steel, these grilles provide powerful security with attractive visual appeal.
A SteelWeave security grille is a rolling piece of art. Plus, you can choose between three models and five woven pattern designs to meet your needs and match the look of your business. Take your customization even further and place your bar or restaurant logo and other designs onto your SteelWeave grille with our etching services.
Order Cornell Security Grilles and Roll Down Shutters
Cornell is the leader in custom closures and your source for visually appealing security solutions for bars and restaurants. To learn more about achieving top security with a high-end look, locate a Cornell dealer near you. For more information, contact us today.