High-Performance Doors & Grilles
Our Extreme® High-Performance Products offer advanced performance where you need it most. Whether you need advanced performance for security, productivity or air protection at the opening, we can suggest the right door or grille to meet your performance needs.
High-Performance Commercial Closure Solutions
When it comes to speed and durability, our high-performance commercial doors are in a class all their own. These high speed closures operate faster than traditional rolling doors while offering low maintenance demands and exceptional life cycles. We manufacture custom high-performance rolling doors and security grilles suited for a range of commercial uses, ranging from a parking garage to a busy loading dock.
Regardless of the size or scope of your business, Cornell has a solution to match your needs. Our high performance roll up doors offer benefits any business owner can take advantage of, including:
High-Speed: These doors and grilles are manufactured to move — operating at 24 inches per second — increasing productivity and security and reducing the risk of a vehicle collision.
Reliability: Our high-performance closures require little ongoing maintenance and are guaranteed to last anywhere from 300,000 to 1,000,000 operating cycles depending on the product.
Efficiency: Fast operation means less demand on your HVAC system to balance your climate.
"The existing grilles we had installed prior could not stand up to the cycle usage, and they needed a lot of maintenance. Cornell's Extreme Performance 324 grille is the right product, far superior to the other grilles we had in this opening before. We are really happy with the performance and will definitely purchase this product going forward, when the next opportunity arises."
MARK ARGABRIGHT, FACILITY MANAGER AT YOHN PROPERTY MANAGEMENT
High-Performance Commercial Rolling Doors
Get the absolute most from the workday with Cornell high-performance commercial doors. These industrial-grade rolling doors offer maximum uptime, opening and closing at rates up to 24 inches per second using a direct-drive system. We manufacture two styles to select from depending on your applications: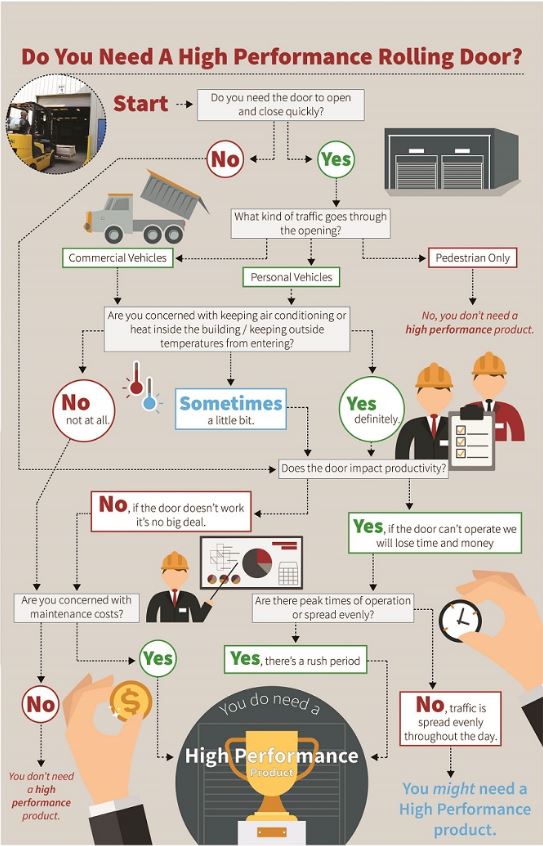 Extreme® 300 series: Our Extreme 300 series rolling doors are made for a precision fit and offer a minimum of 300,000 operating cycles. While fast, these doors feature a smooth start and stop, eliminating unnecessary wear on the door and the operating system. These doors are compact and feature a springless design, so there are no chains to replace.
Extreme 1024 series: The Cornell Extreme 1024 series high-performance rolling door offers dependability unmatched by other rolling doors, with an average lifespan exceeding 1,000,000 operating cycles. These doors are compatible with nearly all activation systems, combining both security and speed in a compact design. The Extreme 1024 door has the lowest lifetime cost of any industrial high-speed roll-up door on the market today.
High-Performance Security Grilles
Our high-performance security grilles offer protection, visibility and fast access, operating faster than traditional grilles and featuring smooth and controlled function. These products are guaranteed to last 300,000 cycles with minimal maintenance requirements. Our available models include:
MicroCoil compact headroom grille: The MicroCoil uses a smaller coil to reduce the space necessary for installation. This grille offers almost 50% more headroom when installed compared to traditional grilles.
Extreme 300 Series High Performance Grille: These security grilles are built for incredible performance, opening at up to 24 inches per second and closing at 12 inches per second.
Custom High-Speed Rolling Closures
Cornell is your source for all your commercial rolling door solutions. We carry an extensive selection of accessories to improve door operation, including hoods, battery backup units and much more. Our customization options extend far beyond style and sizing, offering your choice of materials and over 180 colors to personalize your product.
Each of our high-performance closures arrives packed for simple integration into your structure and our Apex® SmartController panel makes installation and maintenance a snap. The Apex SmartController features:
Easy operation
Plug-and-play wiring
LCD screen display
Compact and intelligent design
Upgrade to a High-Performance Door or Grille Today
A high-speed roll-up closure from Cornell is affordable, reliable and customizable to create the right look for any commercial or industrial application. If you're ready to speed up your business, request a quote or use our dealer locator to find a dealer in your area.