Ready for Retail
Reliable protection manufactured with aesthetics –and safety— in mind.
Security When You Need It
Cornell's rolling security closures are there when you need them, and not when you don't. We know the importance of keeping your retail store visible and attractive for customers while protecting it from theft during closed hours.
Variety of Grilles for a Variety of Applications
Whether you own one retail location or multiple nationwide, Cornell has a custom roll-up security closure for you. From back of store/receiving areas and loading docks to storefronts and store-within-a-store, you can relax knowing your store is safe from smash-and-grab intruders. The combination of longevity and durability that is offered with Cornell security grilles makes them a reliable choice for any retail application.
Not sure which grille would best fit your retail application? Check out our Grille Recommendations for Retail Applications Chart and our Retail Industry Application Sheet
Download Support Materials
Our Newest Retail Grille Innovation
Enter the Visionaire MicroCoil Grille from Cornell. It's a standard cycle, low headroom grille that boasts nearly 40% less headroom than any other standard grille in the industry. It's ideal for areas such as retail, city storefronts, or historic buildings that cannot be heavily altered or have space concerns, and is engineered to be compact, quiet, and reliable.

Visionaire MicroCoil is a space-saving security closure that delivers in the looks department, too. The grille curtain features 304 stainless steel, easily replaceable links, which nest on top of one another on closing and require as little as 15.5" of headroom. With a lifespan of up to 50K cycles, Visionaire MicroCoil also offers design flexibility with its "brick" or "straight" patterns in aluminum or stainless steel finishes.
Available with motor or manual operation options, Visionaire MicroCoil is lockable, offering long-term, on-demand security when you need it.
Strike a balance
It's true, you can have everything. The Aluminum ScreenGard Aesthetic Package creates a sleek, modern look paired with durable security you trust. Smartly designed compact grille guides and a closure plate create clean and seamless lines when the door is closed. When open, the door vanishes into the ceiling, hiding gaps to create a bold and unified look.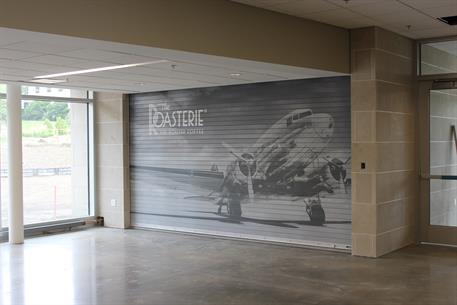 Retail Shops and Restaurants
Often, college and university dining halls function more like restaurants, and campuses run like towns – with convenience stores, office supply centers and school stores as primary retail hotspots. Think of a student union – typically they're open 24 hours for students to use as they need, and they also contain restaurants and retail stores for students' convenience. A coffee shop is likely open significantly earlier than a lunch spot, so businesses must find ways to secure their storefronts during off hours. Whether it's your university dining hall, coffee shop, or business with limited space, we have you covered.
Back of Store and Receiving Areas
Deliveries are the lifeblood of any retail store – if you don't have merchandise to sell, you don't stay in business. Typically, these deliveries come in the back of the store at a loading dock or receiving area. Depending on the size of the store, these loading areas may be accessed once a week, once a day, or many times each day. Finding the right closure solution that matches your needs is crucial for success. No matter if you're trying to prevent a storefront smash-and-grab theft or find a loading dock door that can withstand heavy use, we have the right closure solutions for your retail needs.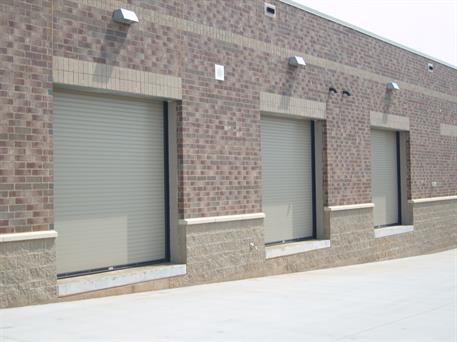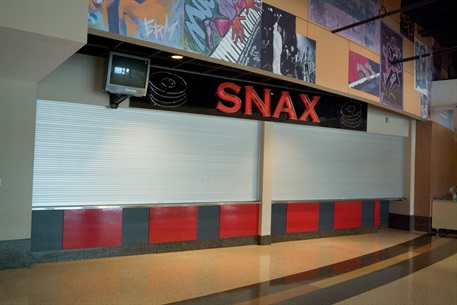 Store Within a Store
There are often smaller stores within larger stores. Think of pharmacy counters in drug stores, hair salons in a big box store, or a bank branch in a grocery store. Often, these stores within a store are open fewer hours than the main store and, as such, must implement a closure solution to secure the area when not open for business. Integrating robust security solutions into store-within-a-store setups ensures a safe and protected environment for valuable merchandise and enhances loss prevention measures.
Storefronts
A storefront is a great way for a retailer to display goods and generate interest – that's why so many people go window shopping. But those very same glass doors and windows that show off products so well can leave a store vulnerable to theft and vandalism. That's why smart retailers add the protection of an additional closure to secure their storefronts during off hours or even in times of crisis.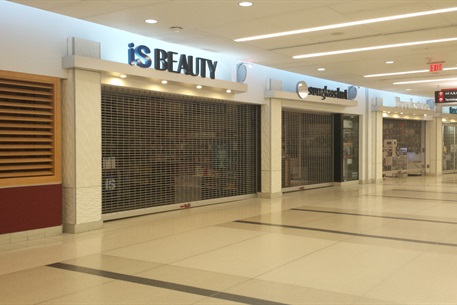 Retail Security Gates and Rolling Doors
Security gates and rolling doors play a crucial role in safeguarding retail stores by providing effective protection against unauthorized access and potential threats. These robust physical barriers are designed to deter break-ins, vandalism, and theft, ensuring the safety of valuable merchandise and assets within the store. With features such as sturdy construction, advanced locking mechanisms, and options for customization, security gates and rolling doors offer retailers peace of mind, enhanced loss prevention, and a secure shopping environment for their customers. Check out our featured products below:
Rolling Security Grilles: For restaurants and businesses that have limited headroom and narrow openings, rolling grilles are an excellent solution. They keep restaurants and retail shops secure, but they also allow for visibility and advertising even when they are closed. Our wide variety of grille options work best in store-within-a-store applications where you want a visual deterrent without sacrificing visibility into the main store's area. Our Sentry Gate has an open grille design comprised of injection molded components to provide a secure, aesthetically pleasing alternative to a standard metal grille.
Side Folding Grilles: If your business has a wider opening, a side folding grille may work best for you. Often, these doors are recessed into a pocket, allowing for a streamlined aesthetic when the door is open.
Rolling Counter Shutters:Our rolling counter shutters provide full-door security with smaller, and more aesthetically pleasing, slats, guides, brackets, and hoods that are ideal for compact spaces. A counter shutter can come with or without locks, and is even available in a slip-in model that is fast to install and looks built-in.
Service Doors: Our service doors are the most popular choice for loading docks and storage area needs. These durable and versatile doors are designed to withstand heavy use and offer reliable protection against unauthorized entry.
High Performance 1024 Doors: For areas that will be accessed often, you need a closure solution that can handle high cycles. Our Extreme 1024 High Cycle Door can withstand tough daily use.
Insulated Rolling Doors: For stores in tougher climates, a door that can keep harsh temperatures and air out is ideal. Our line of insulated doors can help you better control your interior climate, no matter what's happening outside.
Max Protection Doors: Unfortunately, recent events have shown that retailers need to be prepared to secure their storefronts. From smash-and-grab thefts to full-scale riots or thunderstorms to hurricanes, our Max Protection Doors can protect your storefront from damage and your business from loss.
Contact Us Today for Retail Security Closures