Commercial Doors for Schools and Universities
Whether you're building an elementary school that needs corridor security for after-hours activities or a university dining hall with the need for a service window closure, we've got you covered!
Security Solutions for Education
Every student deserves access to a secure and protected learning environment. Each campus faces its own unique security challenges, and that's where our doors and grilles come in. Engineered with high-quality materials and innovative technology, our commercial doors and grilles offer unmatched reliability and performance for your campus.
Commercial doors for schools are specifically designed to respond efficiently in emergencies, strengthen daily security, and create adaptable spaces. Flexible door and grille designs allow you to easily transform spaces, section off hallways, and prevent unauthorized access.
Our advanced line of security doors for schools provides an extra layer of protection for students, faculty, and families, ranging from basic daily access and traffic control to advanced security.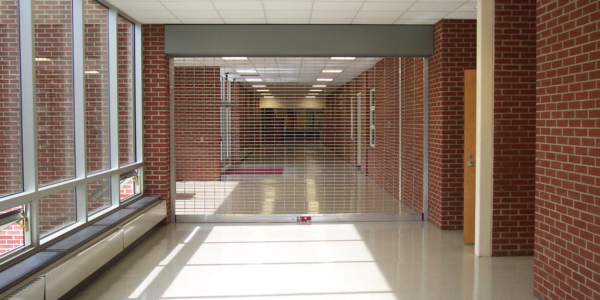 We offer an extensive selection of rolling doors for schools, including: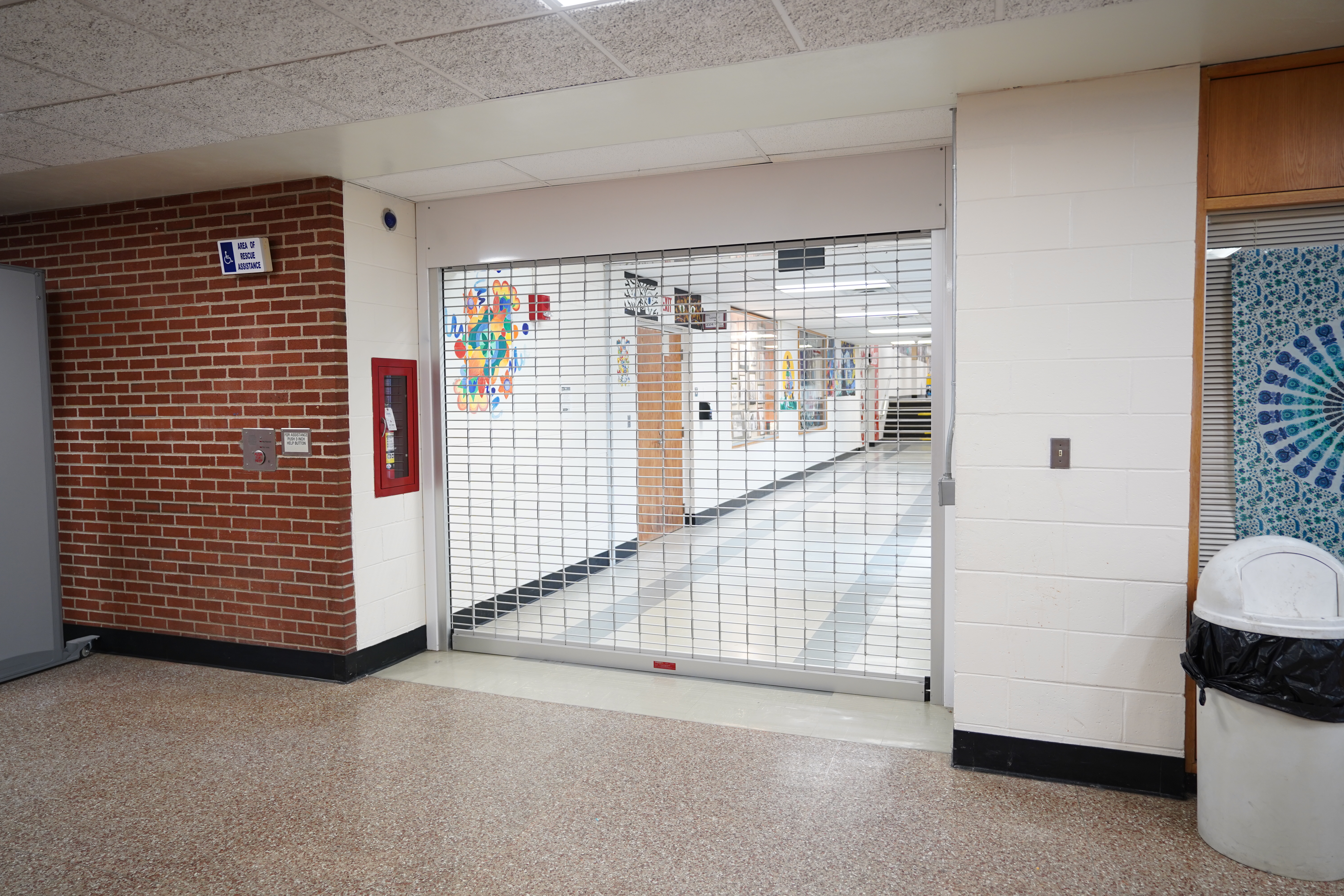 Corridor Safety and Interior Solutions
The CrossingGard® Grille with ThreatProtect™ features a state-of-the-art motor operator that works with your school's existing alarm system to close the grille during a lockdown and open it when the alarm indicates another emergency. These grilles not only perform in emergencies, but they maintain everyday security, with all of the visibility and ventilation benefits of our standard grilles. To block visual access, CrossingGard with ThreatProtect is also available in standard and insulated door models.
Discover CrossingGard with ThreatProtect
Hurricane Security Shutters for Schools
The StormDefender® door automatically transforms your building into a storm shelter. This door is engineered to tuck into precast concrete, becoming virtually invisible until it's needed. StormDefender can extend over multiple openings or banks of windows, allowing for unhampered design freedom. ICC500-2020 and FEMA P-361, Fourth Edition code tested and certified, this door is your school's first line of defense against severe weather.
Discover StormDefender
Rolling Counter Shutters
Rolling counter shutters are a great choice for cafeterias and concession stands. They are made of durable aluminum or stainless steel and are designed to be sleek and compact. Counter shutters for schools make a statement in any cafeteria or sports setting, providing reliable security and keeping your food areas clean of dirt and debris. Counter doors are available in fire-rated and insulated models.

Explore Rolling Counter Shutters
Keep Exploring.
Connect with your local Cornell door dealer or collaborate with our Architect Design team to find the best product for you and your customers.
We are thrilled with how this door looks.
We are thrilled with how this door looks. The level of detail that's been captured so clearly in the image on this large door is incredible. Mark Worman Owner and Presenter - Graveyard Carz