Insulated Roller Garage Doors
Cornell is the leading manufacturer of overhead insulated doors, rolling garage doors, security doors, fire doors and security grilles
Insulated roller garage doors provide a barrier against the elements by utilizing closed pressure foam interior inside the door curtain when the door is manufactured. These doors are made from slats of formed galvanized steel, aluminum or stainless steel that roll up to store in a coil above an opening. Combined with a door perimeter seal creates an environmental separation.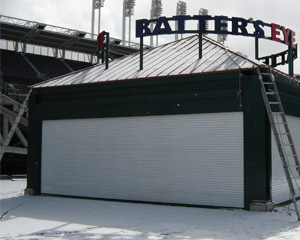 Energy efficient rolling doors
Our overhead coiling doors are manufactured roll formed metal slats, then the double skinned interlocking rolling door slats are filled with CFC free, closed pressure foam to create a high energy efficient exterior door barrier.
When you need to climate control, security with the compact storage of an overhead coiling door, our Thermiser insulated overhead garage door is a perfect choice. To truly get the most energy efficiency when it comes to garage door insulation, using insulated roller garage doors alone is not enough. All of our Thermiser insulated roll up garage doors also use a perimeter sealing system to prevent air infiltration or air leakage around the perimeter of the door. Not only does the full perimeter insulation seal of these energy efficient doors maintain environmental separation, but the overhead door perimeter seal reduces sound transmission compared to non-insulated rolling doors.
Garage door insulation benefits
The benefits of insulated roller garages doors go beyond just controlling the environmental conditions and energy saving results. In addition to a significant sound reduction, the thicker slats provide increased door security, the overhead coiling door design provides compact storage for increased headroom over sectional garage doors. All our overhead garage doors are custom manufactured to your specifications and have many features, finishes and customization options available. This gives you great flexibility for and insulated roll up garage doors sizes, colors and solutions.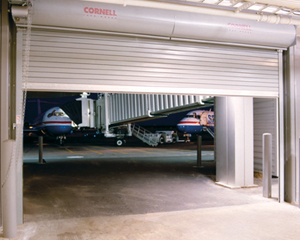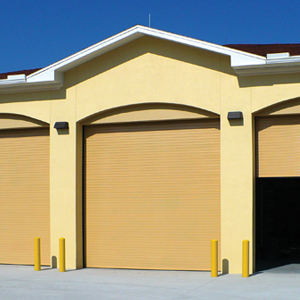 Maximum Energy efficient doors
All insulate rolling doors are not equal. Our Thermiser insulated coiling doors offer great climate control. When superior energy efficiency insulated roller garage doors are required, our Thermiser Max is the most energy-efficient insulated rolling door available on the market. Our Thermiser Max insulated rolling door utilizes our advanced patented perimeter overhead door sealing systems. No other overhead door has the energy efficient certifications that our Thermiser Max insulated doors have. The patented advanced technology decreases air infiltration by 94%! Our ultimate roller door insulation can achieve up to 38 points in five LEED certification credit categories. With an insulated door R value of 8.0, our Thermiser Max Insulated Rolling Doors meet ASHRAE ® 90.1 and IECC® (International Energy Conservation Code) 2015 Section C402.5.2 Air Infiltration requirements with an independently tested value of less than .3 CFM/FT2. No other overhead coiling door beats the Thermiser Max insulated rolling
Insulated garage doors prices
When looking at the prices of insulated roller garages doors, you need to consider the all the factors. Maintenance id a big factor when deciding which insulated coiling door use. High energy efficiency does not help if your rolling door is broken or slow. Our insulated 300 series extreme high performance garage door combines all the climate control and energy savings benefits of our Thermiser Max with a high speed door and 300,000 maintenance free open and close cycles. The spring-less overhead design provides smooth operation, rapid speeds of up to 24 inches per second, three times faster than standard overhead coiling doors. The long life design make our insulated 300 series high performance rolling doors one of the lowest lifetime costs of any door available anywhere.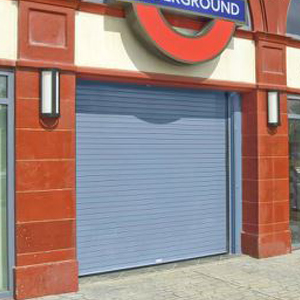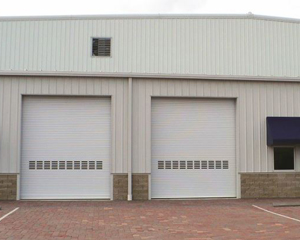 Insulated door options
There are many options and upgrades for all insulated roller garages doors. Overhead insulated doors can be operated by a variety of motor, chain, hand crank or push up openers depending upon the weight, size and frequency of operation. Our insulated series 300 high performance includes our advanced Apex intelligent control panel.
Overhead door materials and finishes
Overhead insulated rolling doors can be manufactured using a variety of metals including steel, galvanized steel, stainless steel and aluminum. Insulated roller garages doors metals have a variety of finishes to choose from including our Galvanex galvanized dual process treatment, Spectrashield powder coat, that uses our state of the art automated overhead door powder coating process or Atmoshield, our long lasting, heavy duty powder coating option for maximum durability.
Not sure which door is right for you? Our Rolling Door Support team can help you find the right door along with architectural drawings, engineering needs, codes, specifications or any door question you may have.