Rolling gate
Rolling gates are used to secure areas without obstructing visibility or air flow. Manufactured with solid aluminum rods that are connected together with heavy duty aluminum or stainless steel links, the rolling gate store in a coil above an opening to provide an easy closure when needed.
Overhead Security Gates
When you need to partition off a building or structure for security reasons or access, a rolling gate is an efficient means to get the job done. Typically found in schools, universities, hospitals malls, overhead rolling grilles prevent unauthorized access to areas of a building, This allows parts of the building to be used at various times. Installing interior gates in a building helps secure areas that should not be accessed. It has become increasingly popular to install a security grille for an exterior gate in facilities such as parking structures to still keep airflow, visibility aesthetics while providing excellent security.
Parking Garage Gates
One of the most increased installation applications for a rolling gate is in parking facilities. Owners of parking garages are realizing that they don't want to seal up their garage but they also need to protect people and property from unwanted traffic. Typical parking security has been limited to parking arms and barriers. However, this does not protect the parking facility from unwanted entering the parking garage. Installing an overhead security gate prevents unauthorized access from vehicles and pedestrians.
ADA Compliant Security Gates
Installing overhead metal gates in parking facilities is a great security measure. Many existing parking facilities have not been able to do that due to ADA 2010 compliance guidelines. ADA 2010 states that for every six handicapped parking spaces, one must be designated as a wheelchair accessible van space. Wheelchair accessible vanes require 8'2" of clearance and most parking garages were constructed with standard 9' 6" ceiling heights. Standard coiling commercial gates occupy 24" or more of headroom, meaning that when installed, the building would no longer be in ADA 2010 compliance. Recently, we launched our MicroCoil compact rolling gate. Our MicroCoil coils and stores in almost 50% less headroom than any other exterior gate on the market. By coiling overhead into only 13" of headroom, MicroCoil still allows 8'5" of clearance. This has open the possibilities for many parking facilities that previously could not install an overhead steel gate, the opportunity to provide upgraded security options.
Request Information on Rolling Gates
Security Grilles
When it comes to installing commercial security gates, performance does not have to be sacrificed or lost. Both our MicroCoil compact security grille and our Extreme 300 series rolling grilles offer 3 times the speed, opening up 24" per second. Both are engineered to require no maintenance for over 300,000 open and close cycles. Complete with a variable-frequency drive, these security grilles have smooth starts and stops, not noisy or vibrating opening and closing to worry about. The commercial security gate's direct drive means there is no chain or sprockets to wear out or replace, just smooth, quiet, fast openings and closing. Combined with our Apex SmartController, they make it the easiest rolling gate to install, program and operate. Any high traffic area, such as a parking garage, will truly love the benefits of fast, maintenance-free rolling gates from our grille line.
Emergency Gate Solutions
Interior gates are a great security solution for schools, universities, hospitals and more. But what happens when an emergency occurs and the metal gates are down? Our CrossingGard Emergency Response Grilles can provide immediate access at the push of a button or when notified by . Activating the push button will also send an alarm notification to alert building owners to an emergency situation and prevent it being used as a means for unauthorized access. Once an event is over, the rolling gates can be closed and secured in place at the touch of a button. For buildings that want to secure parts or sections but still have peace of mind when an emergency occurs, CrossingGard Emergency Gates are the perfect solution.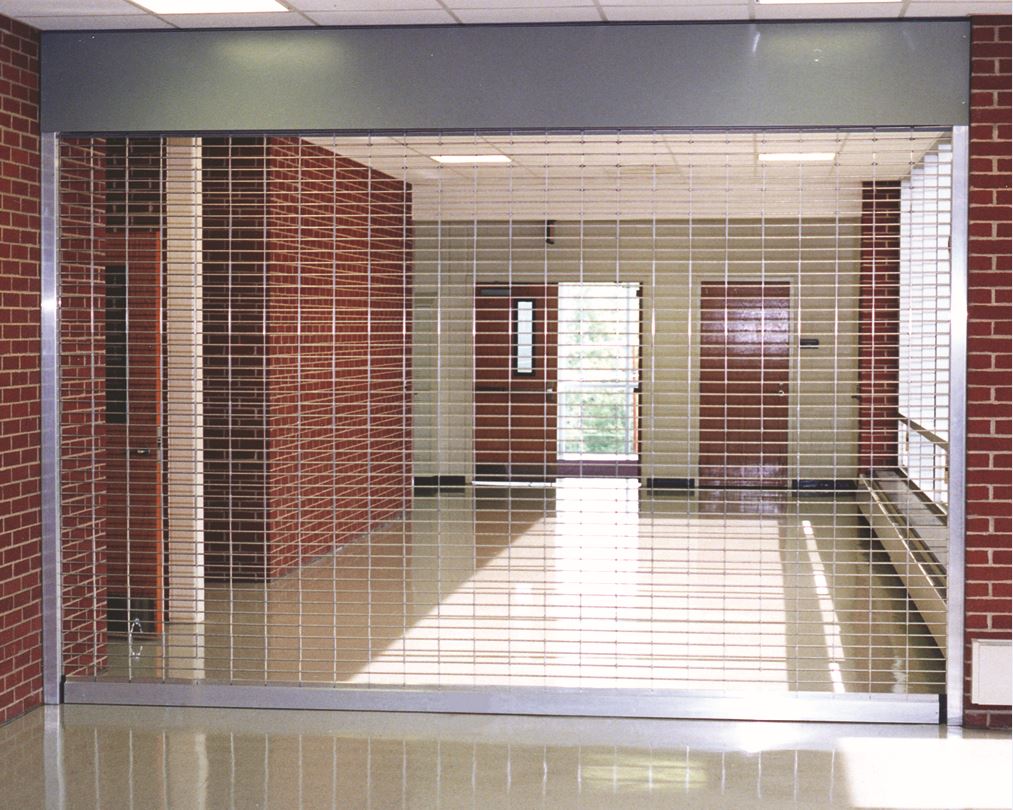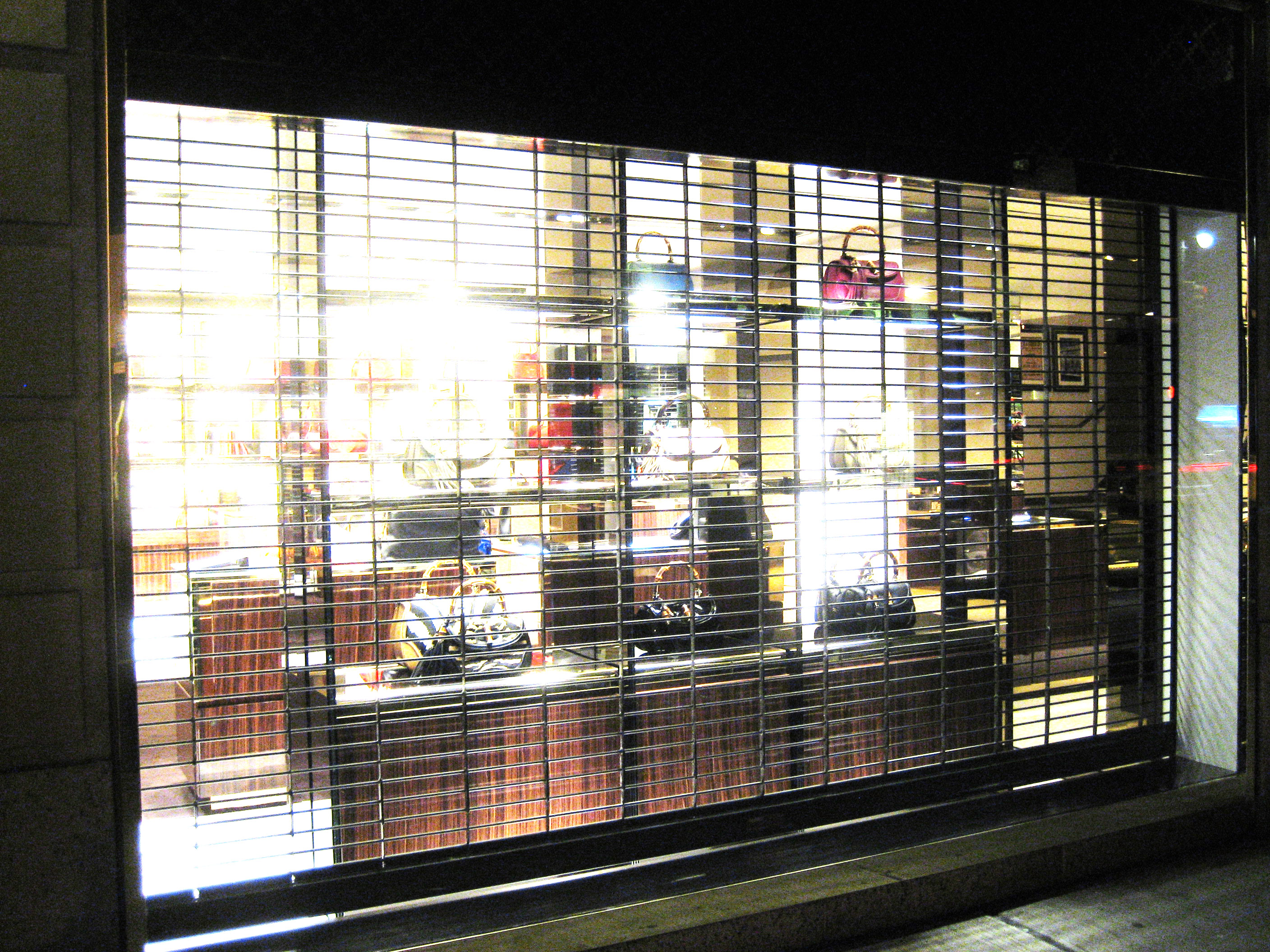 Heavy Duty Security Grilles
Some situations call for increased security and durability. Installing our 5015 Heavy Duty Security Grille gives you just that. With a grille curtain that has rods spaced 33% closer than a standard security grille and links that are 50% heavier, you have a grille that is more secure and sturdy than average gates. The increased protection still allows air flow and vision without compromising aesthetics. This is a great security option often found in museums and government facilities.
Fashion Grilles
Sometimes aesthetics is a primary factory but you don't want to lose security. SteelWeave Metal Mesh Grilles enhances any building with a tightly woven stainless steel curtain. With up to seven different woven patterns, this rolling gate exudes elegance while still providing superior security and protection. For the ultimate in design and branding, the SteelWeave Grille can be etched with any logo or design. This is perfect for restaurants, bars, malls or any store that wants to show that high end look.
Another style is our SentryGate line of security grilles. Manufactured with injected molded components connecting the continuous metal rods, this provides a lighter, yet secure alternative to traditional rolling or counter grilles and perfect for in front of or behind a glass storefront. Available in black or white, SentryGate has the rolling gate design that is light on weight but heavy on security.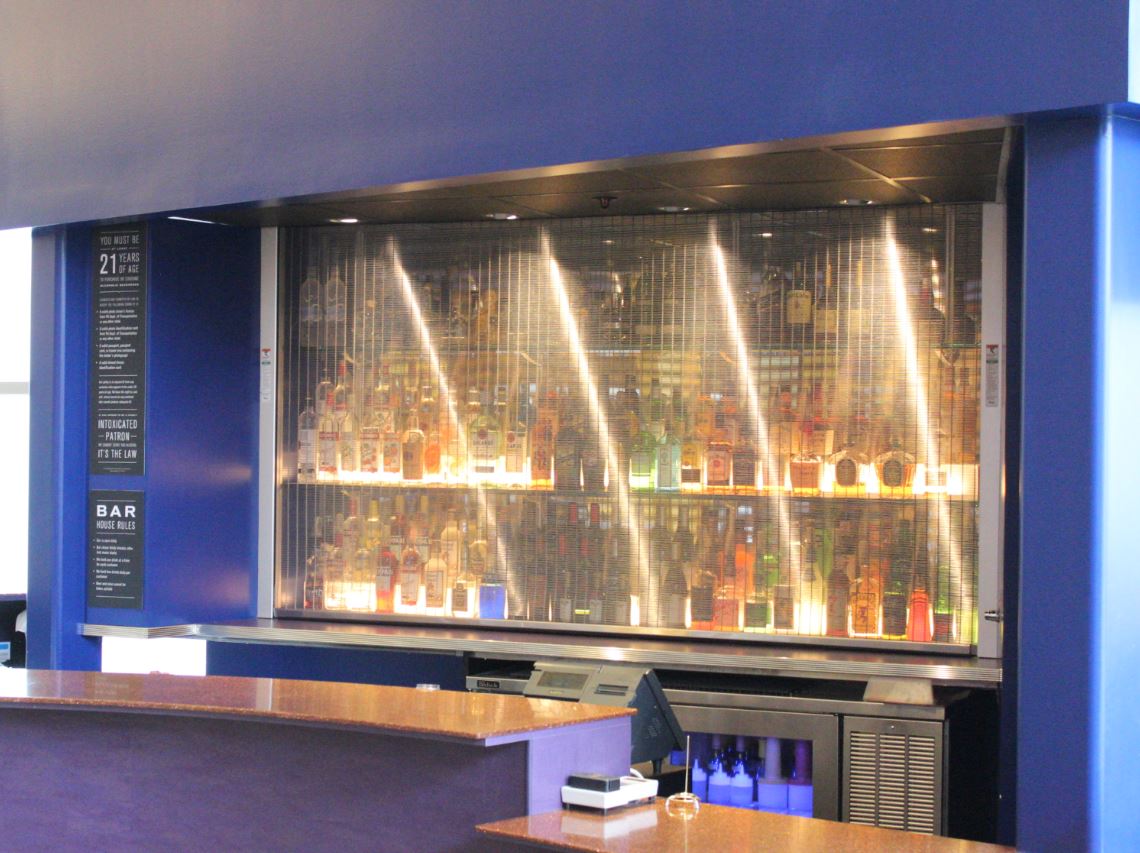 Not sure which security door or grille is right for you? Our Commercial Security Grille Support Team can help you find the right grille along with architectural drawings, engineering needs, codes, specifications or any grille or gate question you may have.