Storm Room | Demystifying Storm Shelter Requirements
A storm room can have many different requirements and options, find out more in our e-book guide.
Storm Room design options have expanded tremendously recently
New Storm Room Door Options
Multipurpose Rooms as Storm Shelter Rooms
Rolling safe room doors have changed the storm room type of room options. They now have the ability to hide or deploy the storm shelter door depending on need allows schools to use storm shelter areas more easily for other purposes. They don't have to build an entirely unusable structure for the sake of a chance of tornadoes a few times a year—they can turn the gym, auditorium, or cafeteria into a storm room 1 percent of the time, while the spaces house basketball tournaments, school plays, or lunch period the other 99 percent.
Safe Room Rolling Doors are not as common yet
Rolling doors for safe rooms are innovative. As with any innovation, they're not as common. While they meet absolutely every safety code and requirement for a storm room, they're just not as widely used. It may be more difficult right now to find examples of how these are being used in schools near you. On the positive side, these kinds of innovations do start to catch on, and more adoption seems likely in the near future as forward-thinking school districts imagine how these advanced solutions can provide great benefits.
Our e-book guide, Demystifying Storm Shelters, can help explain the newest changes. Download it today!

TORNADO ALLEY

Any state or locality that has adopted IBC 2015 or newer, is in an area that has an increased risk or tornadoes (identified as the 250 MPH wind zone.) These areas are required to have a storm shelter meeting the FEMA-361 requirements for all K-12 schools with 50 occupants or more, 911 call stations, police stations, fire, rescue and ambulance stations and more.

HURRICANE VS. TORNADOES

Tornadoes come on more instantly, so the pressure cannot equalize the way it can during a hurricane. When building a storm shelter for a hurricane area, you are building for duration more so than intensity. Tornadoes generally are quick, but have extremely high winds throwing all sorts of different projectiles at high rates of speed. STORM SHELTERS

An interior room, or a space within a building, or an entirely separate building, designed and constructed to provide a near-absolute life-safety projection for its occupants from tornadoes or hurricanes. The most common rooms to be converted into storm shelters are cafeterias, gymnasiums, and classroom pods.
What wind speed does your area need to withstand?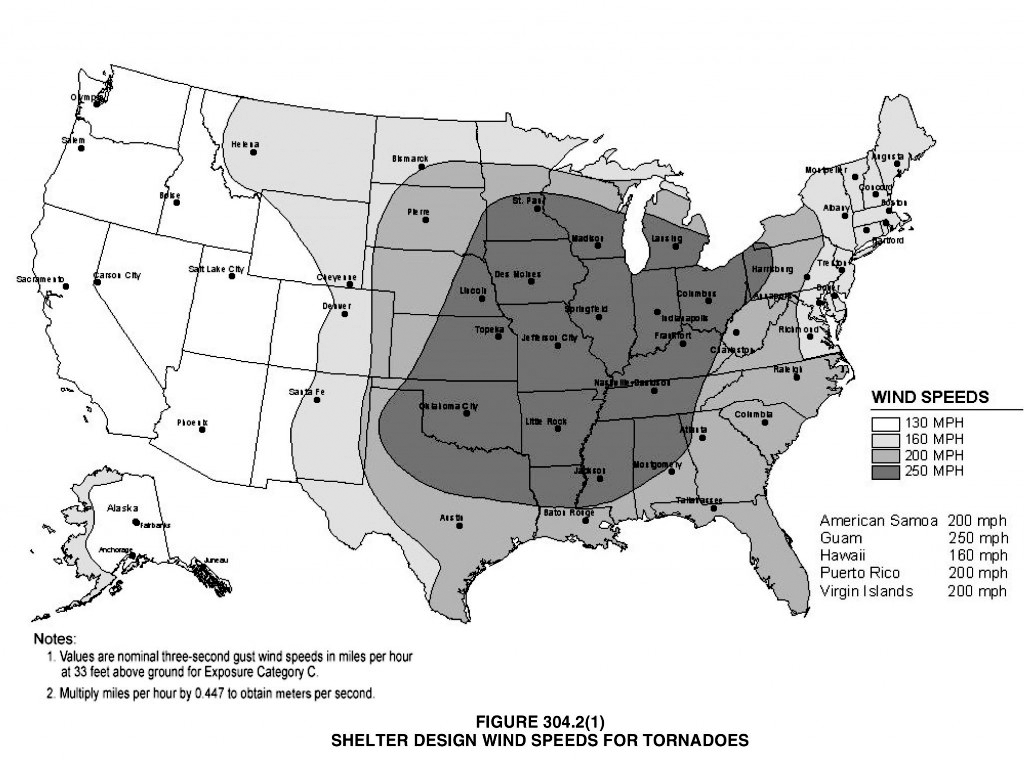 Wind zones are areas of the United States that get (on average) different maximum speed winds. The higher the winds, the higher the chance of a tornado or hurricane and the more damage it can do. This does not mean, however, that the surrounding areas are not of concern. Even in the 160 mph zone, tornadoes can develop and cause devastating damage to the area. 160 mph can still tear off roofs and turn over cars. These areas are generally less prepared for a storm of this magnitude, since they are less likely. When you are under prepared it can in turn have a greater impact on the people and the possessions in that area.