Safe Room Doors
Safe room doors are designed specifically for life safety to automatically shut and secure in accordance with ICC 500 and FEMA 361 during a tornado or high wind and debris event.
An increased need for Storm Safe Rooms
Our StormDefender safe room doors are engineered to International Code Council (ICC)-500 and Federal Emergency Management Agency (FEMA) 361 standards. However, they are designed to work with existing architecture to be out of sight until needed.
Safe room doors have advanced in recent years. Extreme weather patterns have increased the need and awareness to create a safe space to withstand the forces of a tornado, high winds or flying debris. Warmer climates have resulted in more tornado outbreaks to include large-scale events that last up to three days that produce six or more tornadoes in rapid succession. Damages from tornado events have reached all-time highs. But more importantly, protection of life is paramount.
In May of 2013, a massive EF5 tornado struck Plaza Towers Elementary School in Oklahoma City resulting in seven student deaths. The shock of what happened in Oklahoma spurred legislation, school activism and a huge increase in safe room design and implementation in the architectural design community.

Safe Room Design requirements
The International Building Code and IEBC (International Existing Building Code) require storm safe rooms in all K-12 school buildings with at least 50 occupants. These safe rooms are specified by ICC-500 to protect all occupants of the building from flying debris and dangerous winds that tornadoes and hurricanes cause including the safe room doors. Both the IBC along with the IRC (International Residential Code) site the ICC-500 as the governing standard when it comes to storm safe room design and construction.
The intention of ICC-500 is to maintain structural integrity from winds over 250 mph and protect from deadly flying debris those winds can cause. This includes walls that resist horizontal forces as well as resisting any vertical lift. Tornado safe room design should allow the roof to transfer wind load and forces to the walls and ultimately to the foundation or ground. Because of this, many early tornado room designs eliminated windows and openings as much as possible, making them claustrophobic and almost dungeon like. Great for protection but not as functional for other uses.
Sunny Safe Room Design
StormDefender safe room doors allow for freedom of open, airy design. Normally, openings needed to be secured by bulky swing doors or bulky roll down doors that still need to be latched.
StormDefender's sleek construction allows for virtually undetectable embedment into precast concrete, creating minimal protrusion into the space. In addition, the coil may be hidden above a finished ceiling or into a soffit.
Sizes Available: 3' x 3' to 14' x 16', allowing it to cover multiple or large openings. Now typical safe rooms in schools can be open and airy instead of dark and claustrophobic.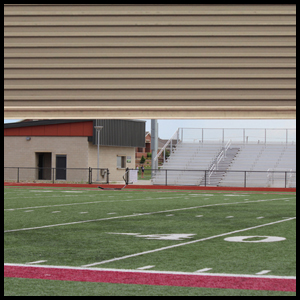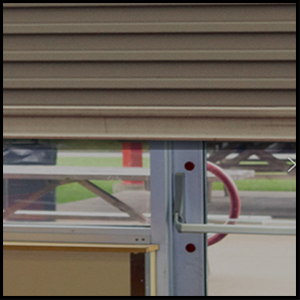 Invisible protection that delivers
StormDefender is big on security and design – while invisible until called into service. Its sleek construction does not lower protection. With StormDefender, you get a tornado room door that has been tested to withstand high-speed projectiles at over 100 mph that leave nothing but a dent less than three inches.
Additionally, the StormDefender ICC 500 rated doors held effortlessly when exposed to wind pressure of 300 psf +/- pressures. This tornado safe room door is built to protect any opening through two of Mother Nature's most dangerous natural disasters.
When it comes to safe room doors, StormDefender meets the standards you'll need.
No Brainer Storm Protection
StormDefender ICC 500/FEMA 361 doors, not only provide the protection you need without compromising design, but it protects you automatically. When connected to a building alarm system, the tornado safe room doors can be deployed automatically, letting you prioritize your efforts for safely gathering the building occupants into the storm safe room.
Combined with our award-winning AlarmGard door closing system, in the event a storm knocks out power, the door will automatically close to eliminate one more "to-do". The heavy-duty slats are held in place with our patent pending curtain design, eliminating any need to manually lock them in place and keeping them in the guides even in the strongest of winds. After the event, the door simply disappears back into the structure this combination provides one true peace of mind during a severe storm event.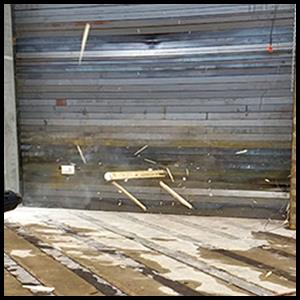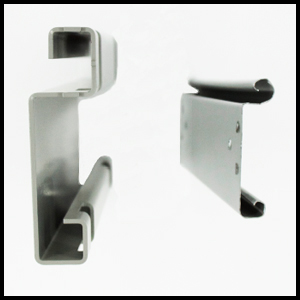 StormDefender Options and Additions
StormDefender safe room doors are:
Available in either fire-rated or non-fire rated.
Stainless steel finish with over 180 powder coat colors, to include our heavy duty AtmoShield™ textured powder coat in 11 colors. Custom colors are also available.

Certifications and Listings
ICC 500-2014
FEMA P-361, Third Edition
UL 10B – Model PRSD361 (fire-rated) door only.
UL 1784 – Model PRSD361 (fire-rated) door only
Not sure which storm protection product is right for you? Our Design Support Team can help you find the right safety door or grille along with architectural drawings, engineering needs, codes, specifications or any door or grille question you may have.