Parking Gate System
Parking gate systems are designed to control the flow of vehicles and pedestrians entrance and exit from various parking facilities. There are many forms but a roll down security grille offers the greatest level security control.
Why Use a Parking Gate System?
When it comes to installing a parking gate system, most people are familiar with parking barrier arms, but they offer only minimal resistance to entering a parking garage and offer no other security benefits other than restricting vehicles. Barrier arms that are combined with a safety gate can increase who enters and exits a parking lot significantly. Increasing crime has led many businesses to upgrade their building security, but they have not upgraded outdated parking arms to something more significant. Installing a roll down security grille can give parking garage owners a greater sense of security.
Preventing crimes, vandalism or dangers should be the first priority of a
parking gate system
. A security grille does that more effectively. Motorized gates that coil above the opening
are
easy to install in existing parking garages. This allows remote access for vehicles and pedestrians to be able to open the parking lot gate to gain entry or exit and then automatically close behind afterward.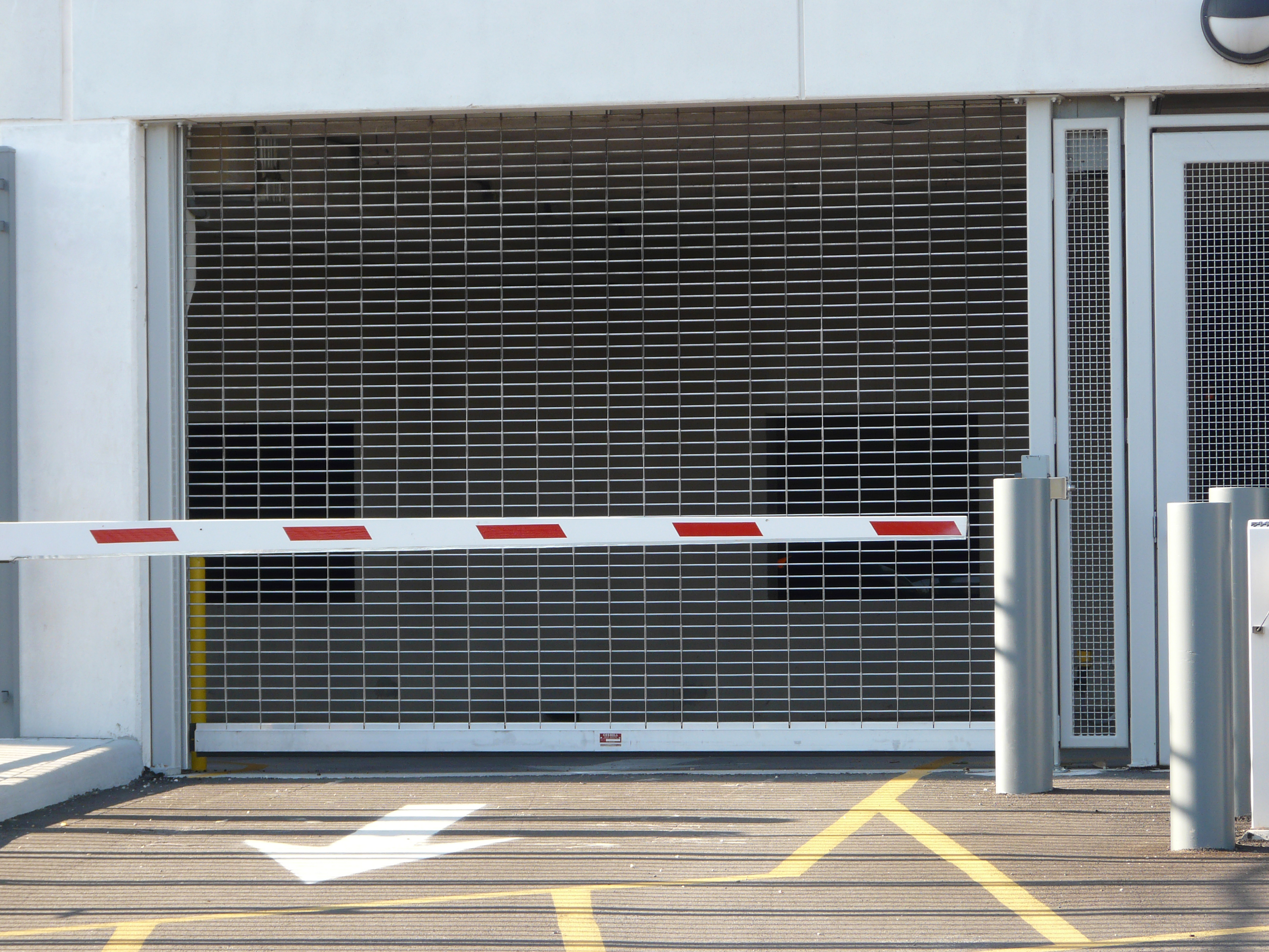 Parking Garage Gate Options
There are several varieties of roll up security grilles, choosing the correct one is key. For a parking garage system, a heavy duty roll down security gate can save money due to the longevity and reduced maintenance needs. Traffic flow and volume can influence the decision of which commercial gates to use. High performance parking garage gates open and close much faster than standard rolling grilles. High speed garage security grilles can operate at speeds of up to three times as fast. But high performance security grilles are not just about speed, but longevity too. Our current high performance safety gates have springless designs that eliminate many parts that often fail the soonest. You can expect 300,000 open and close cycles with little more than routine checks from our high performance security grilles. For high traffic parking garages, the benefits of a high speed, long life parking gate will be the perfect solution.
Parking Garage Safety
Safety and operation are always a consideration when choosing a parking garage security grille. We use an intelligent communication controller with any parking gate system that helps all parties. Our plug and play features will make installation a breeze. Having our SmartController that works with virtually all activation and safety devices is important. Additionally, you want a parking gate operator that is easy to program, so anyone can easily set and adjust limits, statuses, error messages and more. Security and safety are paramount, making sure you choose a UL 325-2010 (NEMA 4X) compliant safety gate is imperative. Having photo eye sensors as part of a safety zone or light curtain will ensure that anytime an object passes through the beams, the security grille will immediately halt downward travel and reverse direction to return to the open positions. We offer a safety light curtain of 6 feet to prevent any unneeded safety issues.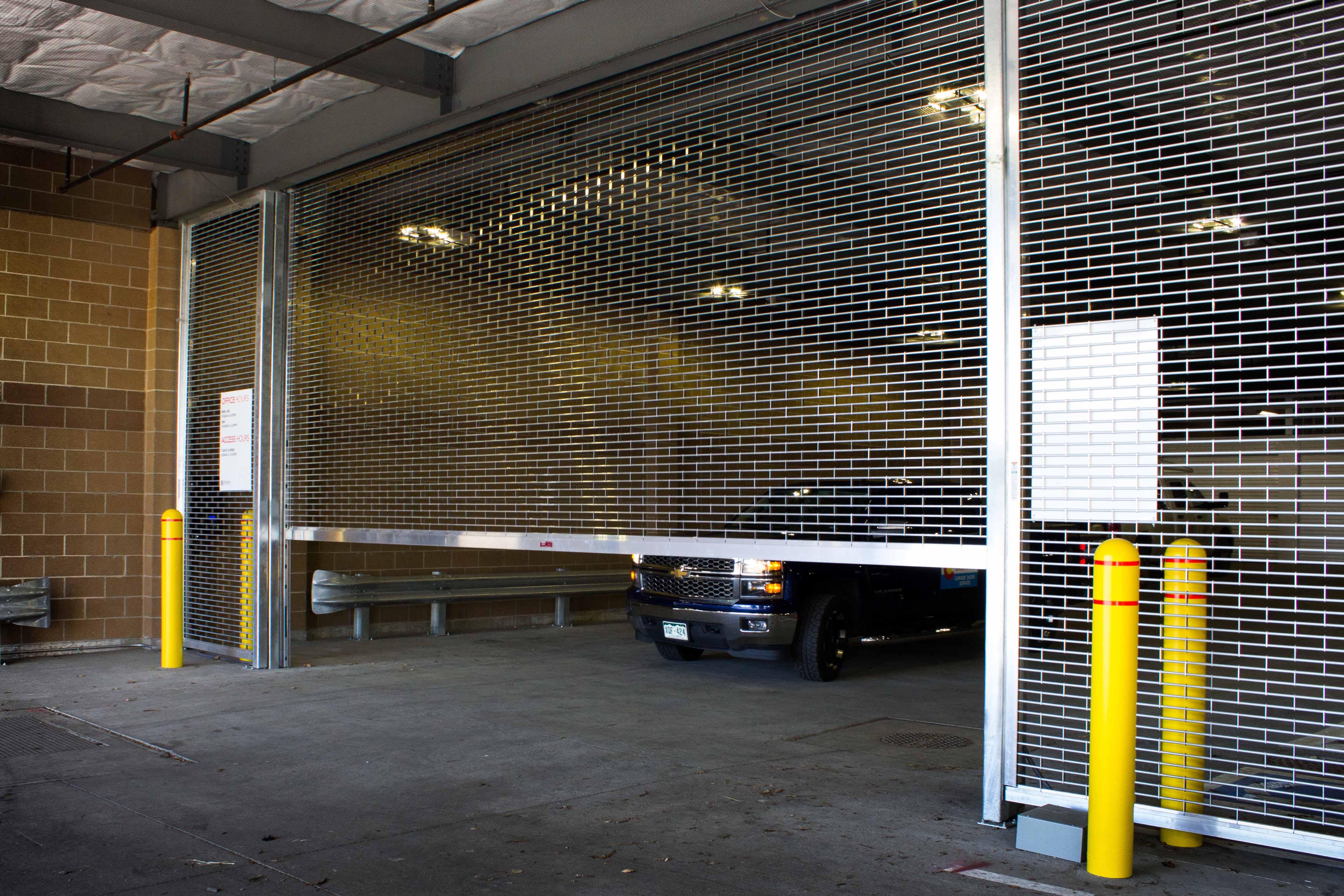 ADA Compliant Security Grilles
Installing a parking garage roll down grille can be complicated in many of today's currently built parking facilities. ADA compliance requires that parking garages have spaces for handicapped accessible vans (1 for every 6 handicapped parking spaces). Wheelchair accessible vans require 8'2" of height clearance. Installing a parking lot gate usually will take up 24" of headroom making it hard to install a roll down gate and still be in compliance. However, we now offer a compact high performance security grille that can coil into only 13" of headroom. This is extremely important as most parking garages are designed with 9'6" ceiling heights and the compact parking garage gate can be installed and still keep the parking structure in compliance. Our MicroCoil compact grille is the only security grille engineered to coil into only 13" of headroom, nearly 50% smaller than any other safety gate.

See all the features of the new MicroCoil compact parking security grille here.
Residential Building Parking Gates
Another issue that comes up frequently is the noise and vibrations typical commercial gates make when opening and closing. In a residential building, having an apartment or office directly above the parking garage opening can have issues with the distractions the opening and closing can cause. Building owners do not want to lose valuable space in the building to issues like that. Luckily the new MicroCoil compact parking garage security grille is also one of the quietest security gates on the market. Engineered with a springless design and a compact operator that features a variable-frequency drive this ensures a soft and quiet­ start and stop. This provides a parking gate that is virtually undetectable when installed directly under an apartment or office.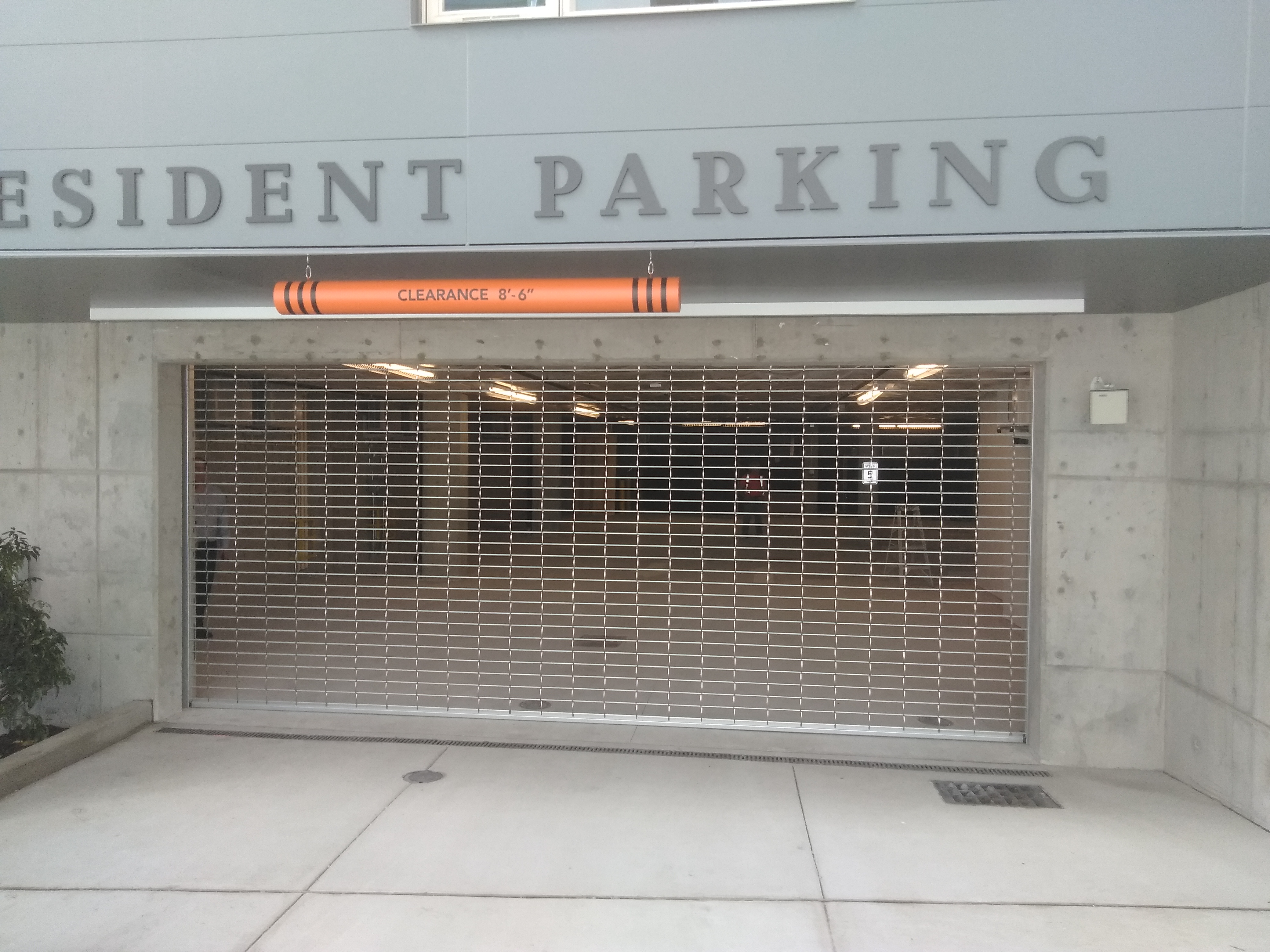 Check out all the features of our new MicroCoil compact security grille, in this video:
MicroCoil Parking Garage Features
As you can see, Cornell offers many varieties and options when it comes to security gates and grilles. Our architect support team can design a custom solution for any type of need and is here to help. You can contact our design team at 833.958.1273 Ext.4551
Not sure which security door or grille is right for you? Our Commercial Security Grille Support Team can help you find the right grille along with architectural drawings, engineering needs, codes, specifications or any grille or gate question you may have.