Continental Door
Address:
12718 E Indiana Ave
Spokane Valley, WA 99216 (map)
Hours:
Monday - Friday: 7am-4pm
Saturday: Closed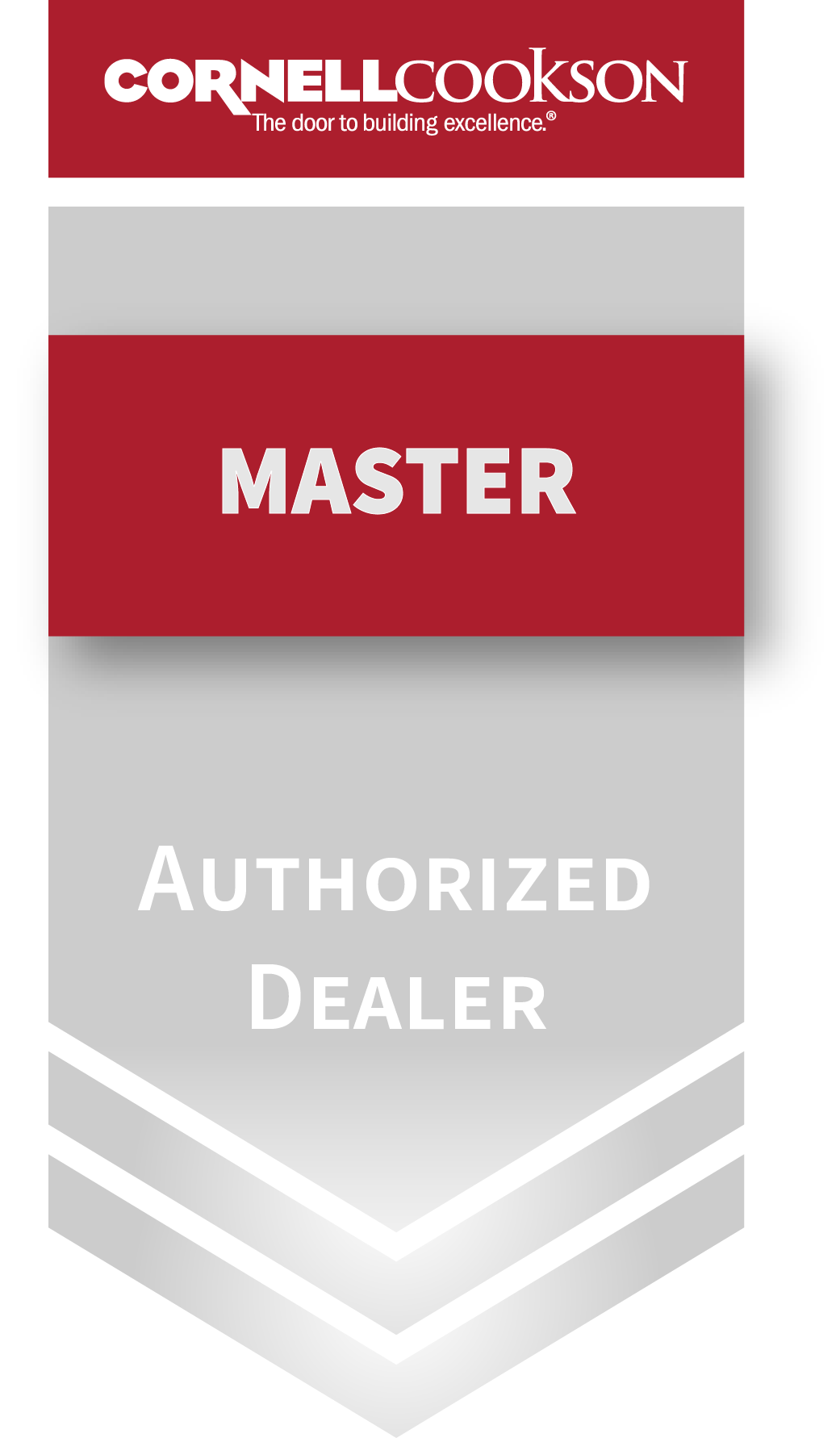 Areas Served:
Continental Door Company serves Spokane and the greater Northwest Inland Empire and Northern Idaho regions.
Products and Services:
When you are searching for commercial doors in Spokane, WA, look no further than Continental Door Company. You're sure to find the right products for your facility among their wide array of industrial garage doors and parts. Continental Door's selection has a vast range of options available, including:
Sectional doors
Coiling doors
Side-folding doors
Movable wall systems
Dock equipment
High-speed doors
Rollup doors
Operators
Specialty equipment
Safety devices
Accessories
Along with these products, Continental Door offers installation, maintenance, repair services, and more so you get everything you need for your commercial doors in one place.
A CornellCookson Master Authorized Dealer
Cornell has an extensive inventory of high-performance industrial doors to fit a range of applications. As the most expansive CornellCookson Master Authorized Dealer in the Inland Northwest, Continental Door carries the effective overhead and other commercial door options you need to optimize your facility's access control.
Call Continental Door and experience the benefits of working with a CornellCookson Master Authorized Dealer today.
Testimonials:
"Our installer, Nick S., arrived early and was very friendly and professional. Our garage door was installed quickly and efficiently. He also kept the work area tidy and was mindful of working around items we still had in the garage. The garage door itself is awesome. Nice quality and quiet. Nick was also helpful offering care tips and making sure we were satisfied before he left. Highly recommended! "
Amber M.

"Marcos and JC were awesome! Doors look great, and they were clear in explaining maintenance and operation of the doors."
Blake W.

"Very pleased with the entirety of the experience! The sale process was smooth and clear, I was fully aware of what needed to be done and in what capacity. I am VERY impressed with the framing of the door for the installation, thank you Chris. Likewise, Nick S. and Mike, the technicians, were speedy and thorough with the installation of the door. In all, it is evident this company takes pride in what they do and how they treat their customers. I would highly recommend them for a quality door and experience!"
Grace F.

"Marcus and Cameron installed my door that I purchased from Derek. When it comes to garage doors, customer service, doing what you say you're going to do, when you say you're going to do it, these guys are top-notch. I'd give them 6 stars if it were possible.

Thank you Marcus, Cameron and Derek!"
Jay B.

"Continental Door Company is very professional, organized and clean. They installed our overhead doors at our commercial building 8 years ago and no issues. We decided to hire them for our home for a garage door replacement and a new patio room overhead. We went with the Clopay brand and it is top-notch. Marcos, Caleb and Derrick did a fantastic job installing. Experienced, caring, detailed. Highly recommend."
Jessie H.

"Ackerman Homes Inc. of Hayden, ID highly recommends C.D.C .
We have used them for many years and always works out perfectly.
Thanks boys!"
Jim Ackerman – Ackerman Homes

"Great job from Marcos and Gregg when they replaced my old overhead door. Very professional, quick and friendly service. The Clopay door looks great and the installation was done well. Looking forward to many years of service from the new door."
Jim B.

"Very professional company. I have used Continental on numerous projects. Quality and courteous workmanship. Marc and Tina are always a pleasure to plan and work with."
Jody B.

"These guys figured out how to put functional garage doors on a 1925 carriage house... we're so happy and it looks fantastic! Chris even framed it in for us! Everyone throughout the process was wonderful. We are now shopping for a gate from these guys!"
Keenan M.

"New to the Spokane area, we contacted Continental Door Company to replace the garage doors on our new home based on their excellent 5-star online reviews. Our sales representative, Bylinda, was absolutely amazing and went above and beyond to ensure a high quality and seamless experience end to end! Clearly an expert in her field, with a great eye for design, she helped us navigate the selection process with confidence and ease. Communicative, confident, and honest, Bylinda is simply the best!

Our installer, Caleb, was not only hard working and efficient to the task at hand, he was friendly, personable, and accommodating to our family's schedule and needs. We were impressed by Caleb's level of professionalism, overall work ethic, and sense of care. He's wonderful!

Overall, we are very happy with the end results and highly recommend Bylinda and Caleb, and working with Continental Door Company!"
Kelly W.

"After calling half a dozen garage door companies Continental was the only one who came out and gave us an estimate. We've had a great experience with them. They're professional and punctual. A section of our new garage door came damaged and they ordered a new part right away and installed as soon as it arrived. I would highly recommend them."
Megan L.


"I'm very happy with my new custom shop door! The experience has been a good one from start to finish. Patricia provided excellent service. Bylinda was a joy to
work with on design and kept in contact with me through the entire process. Kolin installed our door today, he was friendly and installed the door quickly and professionally! Thanks, 5 stars!"
Mike K.

"Scott was so friendly and helpful. He got out to me the same day, fixed my problem, helped me with extra things like programming my car and greasing up my door. He was reasonably priced and went out of his way to make me feel comfortable. I will call him again!"
Misty M.

"Continental Door has probably installed at least a hundred overhead doors for my company. They are always super helpful and go out of their way to make sure we get the right product. I always think of them first when we need a door. Or even just advice about them.

They also handle dock equipment, and vehicle ramps. They are very competitive on them. And as always their service is first class."
Randal R.

"Marcos installed our highly anticipated new garage door on Christmas Eve morning. He was extremely professional and did an amazing job. After he was done with the install he gave us a detailed walked through on how to operate the door, upkeep and let us know the office was available for any questions we might have. Start to finish this company was the best!"
Rabecca F.

"Marcos and JC just installed three new garage doors and they look awesome! They're very knowledgeable and professional."
Scott H.

"Bylinda came out and got me set up with a great door style and what needed done for install. Marcos came out and did a great job on installing the doors and openers. l am pleased with everything. Thanks."
SK FJ

"Craig was absolutely awesome. So professional and fast. An asset to this company. I love my new doors."
Terri R.

"From start to finish nothing but great service. Bylinda came out and gave me the best bid for the job. She was friendly and knowledgeable and could see exactly what I needed. Next was Greg who was totally awesome. A great guy, knew exactly what he was doing and very thorough, making sure that everything was "perfect" even the cleanup. Very Impressed. That and he has "GREAT" taste in music. Thanks again Continental Door. I have already recommended you highly."
Tony L.

"Continental, specifically Marcos and JC, just installed 3 garage doors in my new indoor riding arena, can't say enough! They were prompt, courteous, knowledgeable and friendly. Beautiful install that works almost silently and reviewed all functions with me. Won't use anyone else!"
Vertical Farm
About Continental Door:
Continental Door Company has over 20 years of experience in the residential and commercial garage door industry. Founded in the Spokane Valley in 2000, they're dedicated to providing creative solutions for customers throughout the greater Spokane and Northern Idaho region.
With their team of experienced sales, installation, and support professionals, Continental Door is prepared to meet any challenge. Whether you need high-performance overhead and rollup doors or accessories like operators and safety equipment, this family-owned and -operated company is sure to have what you're looking for.
Continental Door is continually growing to support the needs of property owners in greater Spokane and Northern Idaho. Reach out today to learn more about their dedication to the local community and their available range of commercial products.
Explore Commercial Doors in Spokane
Whether you're searching for the right industrial garage doors, grilles, dock equipment, specialty solutions, or more, Continental Door Company is here to help. You'll find everything you need — including high-quality Cornell and Clopay® commercial doors — with this CornellCookson Master Authorized Dealer.
Visit Continental Door at their showroom in Spokane Valley, give them a call at (509) 550-7615, or request a quote online to learn more about their Cornell products and get started today.
What's Unique About Our Products/Services?