Commercial Overhead Doors
Cornell is the leading manufacturer of commercial overhead doors, insulated roll up garage doors, fire resistant door and hurricane garage doors
Commercial overhead doors are heavy duty steel doors that are engineered specifically to protection against unauthorized entry as well as the elements. Manufactured to coil up above openings to save space, they are designed to withstand daily operations and can be designed with insulated interiors, high speed opening or even high wind load protection.
Coiling Door Advantages
Cornell's commercial overhead doors are manufactured with 18-24 gauge steel that is formed into interlocking slats. Our commercial roll up doors utilize 3/16" to ½" structural steel guides to keep the roll up doors in place. In comparison, sectional garage doors are normally made from only 24 gauge metal into sections that have to be hinged together with formed lightweight metal guides. All our commercial garage doors are custom designed and manufactured, so any unusual or unique door opening sizes can be easily be accommodated.
In commercial, industrial or institutional buildings, there are higher traffic demands that need to be addressed. Commercial overhead doors are manufactured with heavy duty materials and the overhead coiling design means they require much less maintenance than sectional doors. High volume areas can be outfitted with steel roll up doors designed to open and close for over 1,000,000 maintenance free cycles. Sectional garage doors have a variety of parts, usually 30 to 40, that need to be maintained and lubricated frequently to keep them running smoothly. In a busy commercial environment, the down time for repairs and upkeep increases the lifetime cost of your commercial garage doors, making our commercial roll up doors the best value over time.
Roll Up Door Options
Installing a commercial service door does not mean sacrificing advanced features. When a business or industry has a high traffic opening that is vital to the flow of production, a high performance overhead door is the answer. Our 300 series high speed doors features a springless design. That means smooth, rapid opening and closing with speed of up to 24 inches per second. Our springless overhead door reduces wear and tear. With a direct drive design, there aren't any springs or chains to wear out. The springless door means more than fast, smooth operation. The heavy duty parts and materials are engineered for over 300,000 maintenance free open and close door cycles. Have a hard to service location or high priority building opening? Cornell's 1024 high performance overhead door is engineered for over 1,000,000 maintenance free open and close cycles for the ultimate peace of mind.
Request Information on Commercial Overhead Doors
If the elements or weather are a major concern, Cornell's line of insulated commercial overhead doors are the solution. With all the benefits of our standard commercial service doors, the steel door slats are filled with dense foamed in insulation to provide not only a high barrier from the elements but increasing the density of the roller garage doors increases the security of the door too. But our insulated roll up garage doors not only excel at maintaining an environmental separation on each side of the commercial door, but around it too. If environmental conditions can seep in around the door then you are still losing the battle. Cornell's insulated doors feature our patented full perimeter door sealing system. This creates an entire environmental envelope that delivers a 94% decrease in air infiltration along with substantial sound reduction. Our insulated coiling doors are not just the most energy efficient rolling doors available today, they meet ASHRAE® 90.12, 2015 IECC® and California's Title 24 air infiltration requirements. This green engineered garage door can help you achieve up to 38 points in five LEED certification credit categories. Our insulated doors and perimeter seal can be combined with our high performance doors to give a complete high speed, long lasting, low maintenance energy efficient overhead door.
Sometimes your overhead commercial doors need to provide life safety for rare emergencies, such as a fire. When you need to trap fire and smoke in its tracks, Cornell's fire resistant doors are the ultimate solution. Cornell's complete fire rated door system will compartmentalize a fire event quickly to provide adequate time for a means of egress. While built for everyday use, when installed in a fire rated opening, fire proof doors offer industry leading, intelligent operation that automatically activates the doors through either thermal or electronic means. UL Listed for ¾, 1 ½, 3 and 4 hours of fire protection, our fire proof doors are engineered to stand up when it matters, as well as being Factory Mutual Approved and listed with the California Office of the State Fire Marshal. Overhead coiling fire doors are custom built to your specifications and offer all the options and finishes our service doors do, but more than anything, provide peace of mind against loss of life or property.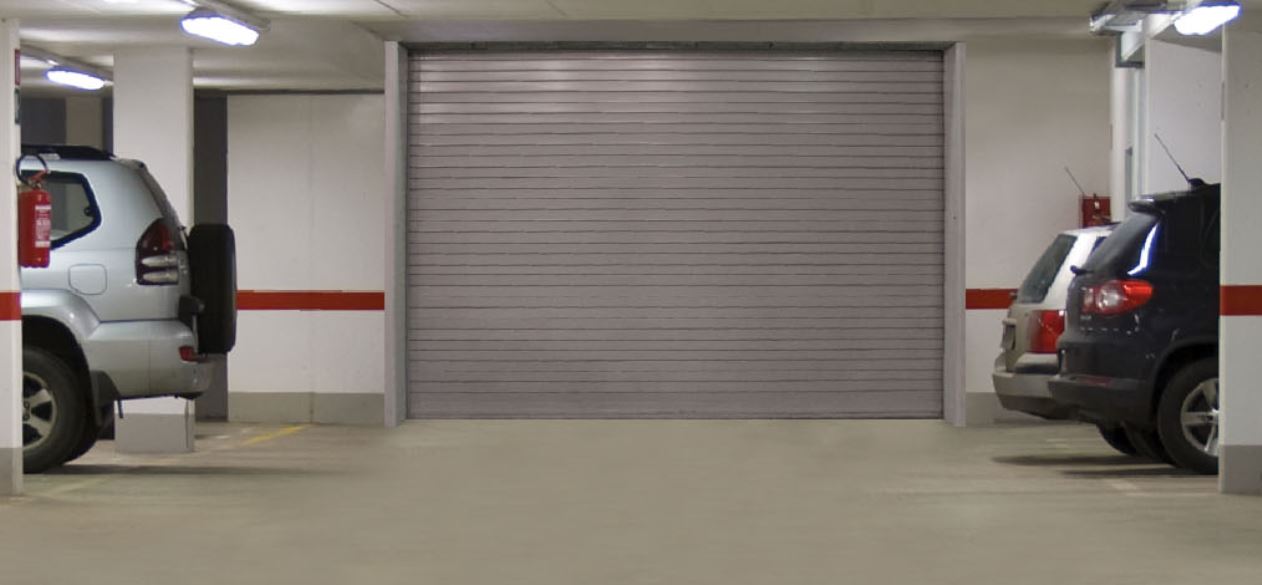 Advanced Rolling door solutions
Cornell doesn't just stop there. Our team of engineers have specially designed commercial garaged doors that can be wind load rated. Hurricanes are no match for these hurricane garage doors. Specifically engineered, tested and rated for ANSI/DASMA-108, ASTM E 330, Miami-Dade County test protocols TAS 201, TAS 202 and TAS 203, Florida Building Code (FBC), Texas Department of Insurance (TDI), Signed and Sealed Calculations and more, we have the garage doors designed to protect against whatever Mother Nature has to throw at it.
Even when the thereat is man-made, Cornell has you covered. Our max protection line of commercial roll up doors are high security doors designed to repel threats such as riots, vandalism, attacks or break-ins. With a push of a button, security doors automatically close, activating a building lockdown. Max security doors can be aesthetically designed to blend with a buildings architecture, feel or corporate identity. Max security overhead doors are ideal for government buildings, department stores, large box stores or even commercial establishments of high end goods.
Not sure which door is right for you? Our Commercial Overhead Door Support Team can help you find the right door along with architectural drawings, engineering needs, codes, specifications or any door question you may have.