Fire and smoke guard protection strategies
Smoke guard protection strategies include installing smoke curtains that trap smoke and prevent it spreading throughout a building in areas such as elevator shafts.
When a building is designed by an architect, function and form are not the only concerns. Life safety is a vital part of the planning for your building and its occupants. Fire events are one of the biggest concerns in any building structure. However, the fire itself is not the biggest threat, the smoke that invades the building is. According to the Federal Emergency Management Agency (FEMA), smoke asphyxiation is the leading cause of fire deaths, three times more than burns. That is why guarding a building against smoke is a paramount concern. Smoke has a way of getting into the smallest of cracks and filling a building is extremely short amounts of time. Everyone is familiar with fire guard protection systems such as sprinkler systems, alarms, local fire extinguishers and more, but are you aware of what protection is in place for smoke guard and prevention?
When it comes to fire safety, especially in multistory buildings the biggest threat is not the fire itself, but the smoke that fills the building. Creating a smoke guard barrier to prevent smoke from spreading can be a huge difference when it comes to life-saving. Installing a smoke curtain is a simple and practical way to trap smoke and prevent it spreading throughout a building. Smoke curtains are barriers that deploy upon an alarm trigger and seal areas such as elevator shafts from smoke migration.
Smoke containment systems

There are basically two methods for smoke containment. One method is to install a mechanical system that pump or vacuum smoke through exhaust systems to remove smoke from the building allowing occupants to evacuate. This can be an expensive and massive implementation. Another method would be to guard the building from smoke migration. This is accomplished by building a smoke guard area or method that prevents the smoke from migration and spreading. Primarily, the elevator shaft must be protected.
Elevator smoke protection
Buildings with more than three stories are required by the IBC (International Building Code) that architects must design a fire and smoke guard and protection system for any elevators. Elevators can act like a chimney and allow smoke to seep and quickly spread to other floors. IBC requires an elevator lobby to isolate each floor. An elevator lobby is a self-contained area around the elevator shaft that has fire and smoke rated doors and walls that seal off and act as a smoke guard. However, the enclosed elevator lobby area can take up lots of prime space and can be challenging to the design process. Luckily, there is an exemption to this code if the elevator shaft can be sealed from smoke migration, smoke curtains.
Request Information on Smoke Guard Protection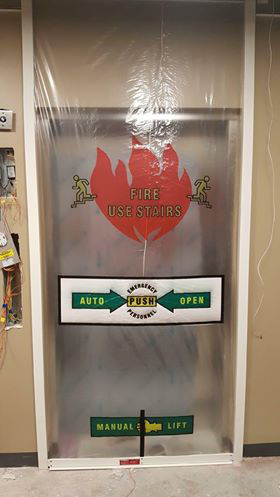 Why use elevator smoke curtains
Smoke curtains are easy solutions to create a smoke guard system and still comply with fire and smoke codes. Elevator smoke curtain deploy during a fire event, openings where smoke typically uses to get to other areas, like an elevator shaft, can be sealed to guard the other floors against filling with smoke as well as protection paths of egress. Installing a containment system for smoke guard and prevention can be done very easily and will eliminate the need for an enclosed elevator lobby. From a design standpoint, this returns a large amount of space for the architect to design with.
Smoke curtain designs
To date, there have only been a few choices on the market when it came to a smoke guard protection system. The most popular design uses a magnetic seal as the curtain rolls down. However, if the curtain is not deployed every 6 months, it could start to lose its magnetic attraction over time. Additionally, painting and design on the elevator shaft can lower the magnetic attraction and compromise the seal. Without a proper seal, a smoke curtain is useless. A smoke guard should still allow access for first responders, emergency personnel and evacuees if needed. Magnetic roll systems can easily be moved out of place making it harder for them to reseal. Track based smoke curtains were traditionally made from an opaque material, making it hard to know what is on the other side and some had bulky guides with exposed fasteners. Battery backup is not a standard option either.
Now available - SmokeShield™ Elevator
SmokeShield Elevator is a new smoke curtain from CornellCookson that takes advantage of nearly 100 years of experience in the life safety and fire protection industry. SmokeShield Elevator offers all the best qualities while eliminating the concerns other products have. SmokeShield Elevator occupies the smallest headroom, side room and backroom of any smoke curtain. The first elevator smoke curtain that fits into less than 10" of headroom, even when sealing openings up to 12' high by 12' wide, this opens up installation opportunities that were not previously available. SmokeShield Elevator features a compact, snap together seamless guide components that eliminate any visible fasteners. However, the functions of SmokeShield Elevator are what truly makes it shine. With a standard back up battery included, SmokeShield Elevator can deploy whenever a fire event is triggered even if there is a loss of power. With highly visible transparent curtain material, it is easy for EMT's or firefighters to access the area before entering. Addition large intuitive graphics make it easy for evacuees and emergency personnel to simply operate the center open button or emergency lift strap. No matter which way the smoke curtain is opened, it automatically closes afterward and re-seals the opening.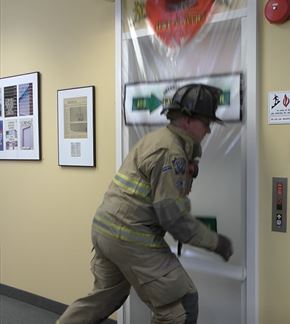 Smoke guard curtains and building decor

SmokeShield Elevator can be installed in existing décor and either blend in or be practically hidden. With the smallest footprint of any smoke guard prevention system, SmokeShield Elevator is the most design-adaptable hoistway smoke enclosure in the industry. SmokeShield Elevator's design versatility is evident in allowing guides to be easily concealed in wood, masonry, sheetrock or other fascia materials, offering the broadest range of mounting possibilities. Any exposed guides or bottom bars can be finished to match, complement, or contrast their surroundings with custom powder coating, faux finishes, or a unique stainless matching guide anodization option.
SmokeShield Elevator advantages:
Re-seals 100% of the time with every cycle
Compact guide system to that always re-seals
Easy to use
Smallest size allows more installation options
Thin snap together guide system without any exposed fasteners or risk to affecting any elevator warranties
Monitored 24-hour back up battery as standard equipment
Auto reset and auto open
Slim bottom bar and guide design eliminates heavy, bulky rolls during deployment

Highly visible graphics allow SmokeShield to have clear directions in a low visibility situation
Switches are easily identifiable in panic situations
Lift handle option
Maintains fire rating of the elevator door and assembly
Retains the warranty for the elevator system
Guides have a minimal projection beyond the elevator frame
Additionally SmokeShield:
Complies with: IBC 2003, 2006, 2009, 2012, 2015, 2018
Complies with: ICC-ES Report AC – 77
Is UL 325, UL 1784 listed
Is ASTM E864 listed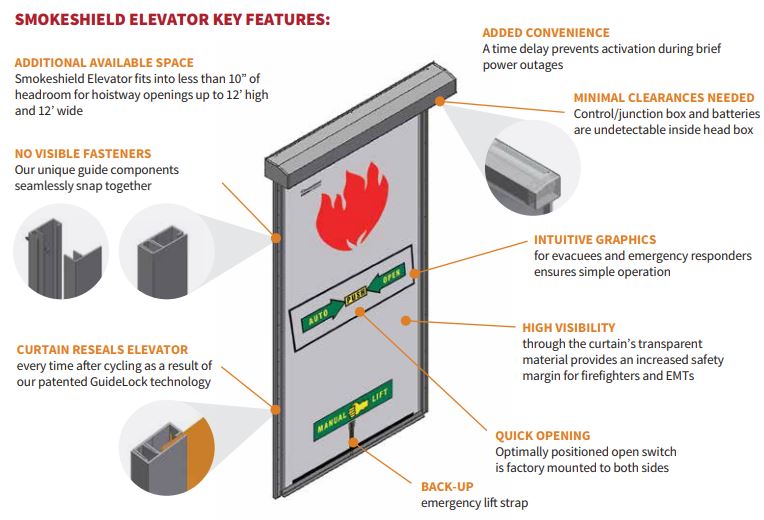 DOWNLOAD:
SmokeShield Elevator Features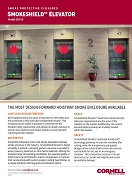 DOWNLOAD:
SmokeShield Elevator Technical Details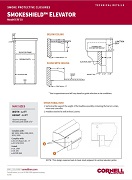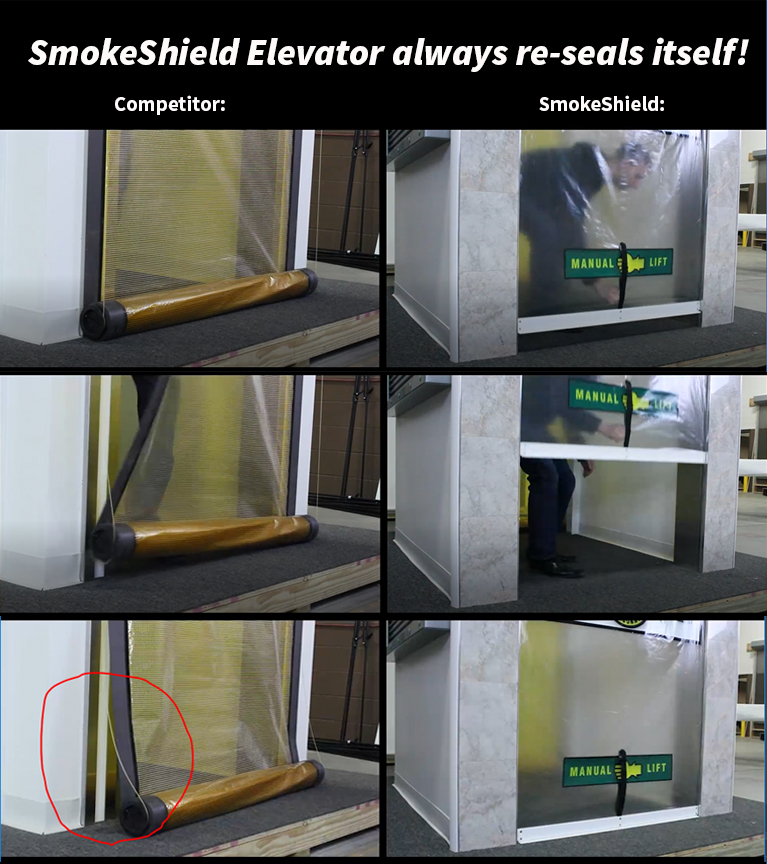 Not sure which fire protection product is right for you? Our Commercial Security Grille Support Team can help you find the right grille along with architectural drawings, engineering needs, codes, specifications or any door or grille question you may have.