Ready for Retail
Reliable protection manufactured with aesthetics –and safety— in mind.
Security When You Need It
Cornell's rolling security closures are there when you need them, and not when you don't. We know the importance of keeping your retail store visible and attractive for customers while protecting it from theft during closed hours.
Variety of Grilles for a Variety of Applications
Whether you own one retail location or multiple nationwide, Cornell has a custom roll-up security closure for you. From back of store/receiving areas and loading docks to storefronts and store-within-a-store, you can relax knowing your store is safe from smash-and-grab intruders. The combination of longevity and durability that is offered with Cornell security grilles makes them a reliable choice for any retail application.
Not sure which grille would best fit your retail application? Check out our Grille Recommendations for Retail Applications Chart and our Retail Industry Application Sheet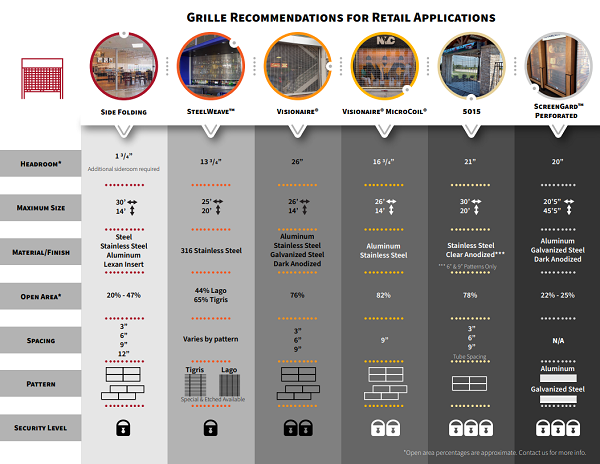 Download Support Materials
Our Newest Retail Grille Innovation
Enter the Visionaire MicroCoil Grille from Cornell. It's a standard cycle, low headroom grille that boasts nearly 40% less headroom than any other standard grille in the industry. It's ideal for areas such as retail, city storefronts, or historic buildings that cannot be heavily altered or have space concerns, and is engineered to be compact, quiet, and reliable.

Visionaire MicroCoil is a space-saving security closure that delivers in the looks department, too. The grille curtain features 304 stainless
steel, easily replaceable links, which nest on top of one another on closing and require as little as 15.5" of headroom. With a lifespan of up to 50K cycles, Visionaire MicroCoil also offers design flexibility with its "brick" or "straight" patterns in aluminum or stainless steel finishes.
Available with motor or manual operation options, Visionaire MicroCoil is lockable, offering long-term, on-demand security when you need it.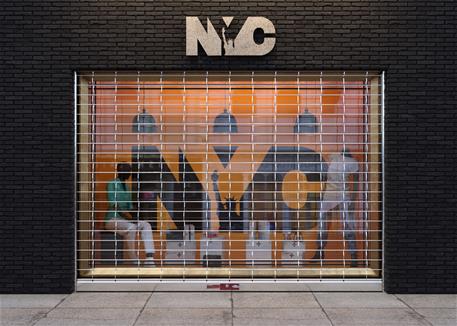 Strike a balance.
It's true, you can have everything. The Aluminum ScreenGard Aesthetic Package creates a sleek, modern look paired with durable security you trust. Smartly designed compact grille guides and a closure plate create clean and seamless lines when the door is closed. When open, the door vanishes into the ceiling, hiding gaps to create a bold and unified look.
Contact Us Today for Retail Security Closures
Check Out Our Retail Applications